Ghauri Misfired!
Taking G.T.Road from Rawalpindi, few furlongs short of the station of Sohawa, due left, a tiny road branches off into the wilderness called Dhamiak. A roadside board announces that it leads to the Tomb of Shahab-ud-Din Ghauri. Plying on tiny offshoot purpose built to drive to the tomb we reach an extravagant structure, a fairly modern construction. Introductory plaques in English & Urdu give a brief rundown on Moiz ud Din Muhammad Ibn Sam popularly knowns as Shahabuddin Ghauri and how in they year 1192 CE, he defeated a grand Rajput Army under Prithvi Raj Chauhan and eventually became Fateh Hind (the conquerer of Hindustan). The fact that this was the second Ghaurid attack and that the same army was routed by Rajputs during their first assault the previous year is conveniently omitted. This discussion, however, is beyond the scope of this story, so dear reader, we continue reading the inscription that then tell us that our Ghaurid Sultan was treacherously assassinated here with his three guards.
Aside under shade are three neatly aligned graves of anonymous guards. The main tomb is styled to look like a shrine. Inside a white marble grave, covered under a green velvet shawl, announces the name, Sultan Shahabuddin Ghauri Fateh Hind rests here. Back in 2014, my friend Major Qaisar Mahmood and I visiting this tomb, had offered Fateha. Like other visitors to the tomb, we too believed that our Sultan was buried here.
And then one comes across a Persian quatrain neatly inscribed on the reverse of the gravestone:
(The) martyrdom of sovereign of sea & land Mu'izz-ud-Din
From the beginning of (this) world like of whom no monarch arose
On third of the month Sha'ban in year 602 (AH)
Happened on road to Ghaznin at halting place of Dam-yak
Now this comes straight from Tabqat-E-Nasiri. Compile in the thirteenth century by Minhaj Siraj Juzjani as a journal of events, Tabqat is a fairly reliable account of Ghaurid Kings of Afghanistan. Our Sultan Muizz-ud-Din Muḥammad ibn Sam a.k.a Shahab-ud-Din Muḥammad Ghauri had conquered area towards the northern slopes and is regarded as one of the founders of Muslim rule in India. The book gives us a rundown on Muizz-ud-Din who had Lahore by 1186 CE. While fighting a Rajput alliance under Prithvi Raj Chauhan near Panipat, our Sultan initially had tasted defeat. The very next year 1192 CE he returned and bagged a victory against the same alliance. So much for the battle account, dear reader, let's now head back to Dhamiak.
Juzjani also writes about the fateful journey undertook by our Sultan. "When he set out towards Ghaznin, in year 602 Hijra, at the halting place of Dam-yak, he attained martyrdom at the hand of a disciple of Mulahidah". Almost all available sources translate Dam-yak to present day Dhamiak as the site of attack where now the tomb stands. Tabqat blames the attack on Mulahida, local Muslims for Ismaili sect, whom the other sects collectively regarded as heretics. Jami-ut-Tawarikh says it was conspired by Sultan of Khwarzam collaborating with Imam Fakhruddin Razi. Some believe it was up to the Khokhars of Salt Range who, having found an opportunity settled the score on an old grudge with the Ghaurid Sultan. The discussion as to who actually killed the Sultan is beyond the scope of this thread. What really interests us comes after a few pages on the pages of Tabqat-E-Nasiri.
When they despatched the bier of Sultan Muizz-ud-Din from the halting-place of Dam-yak towards Ghaznin, the Turk Maliks and Amirs, who were the slaves of that Sultan-i-Ghazi, deprived of the Amirs and Maliks of Ghur, by force, of the bier of the late Sultan, together with precious treasures, and took possession of them. When they reached Karman, the Wazir, Mu-ayyad-ul-Mulk, Muhammad-i-Abd-ullah, the Sanjari, with several other persons distinguished among the Turk Amirs, were appointed to escort the late Sultan's bier to Ghaznin, in company with other Turk Maliks, and Malik Taj-ud-Din Yal-duz.
We are told that the bier of Sultan Muizz-ud-Din was dispatched from Dhamiak towards Ghazni together with precious treasures. Sultan's wounds were sewn up, the body was placed "in a sort of covered litter pretending he was ill" and escorted to Ghazna keeping his death a secret. Historian Salman Rashid tells of this journey in his charming words. "The funeral then proceeded to Ghazni by way of Sankuran that we today know as Shalozan. It was long a stopping place on highroad from Parachinar to Peiwar Kotal that leads into Afghanistan's Paktya province on to Ghazni".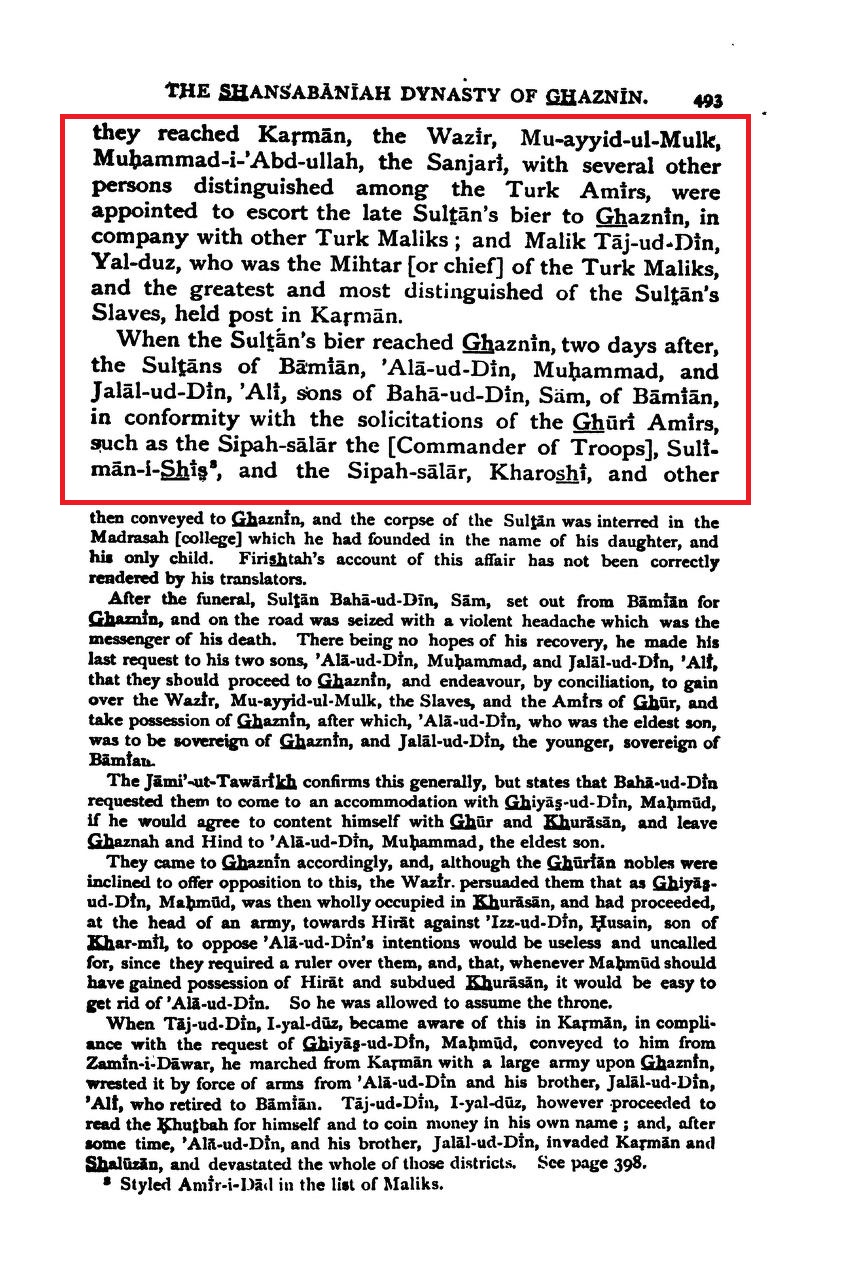 Sultan's bier was received by Taj-ud-Din Yalduz, Sultan Muizz-ud-Din's slave general and the body was eventually buried in Ghazni. The burial place is said to be beside the tomb of his daughter, the only child of Sultan beyond infancy, who died a 'maid' and was buried in the capital city of Ghazni.
That wintry afternoon of 2014, Major Qaisar and prayed on a phoney grave, so does everyone who gets to visit this tomb. This place was fairly recently built by Pakistan's famed Nuclear Scientist. His picture and replica of a ballistic missile named after dead Sultan adorn the place. Picking up the name 'Dam-yak', securing a Persian quatrain from a history book a tomb was built based on pure fantasy. The proprietors of this endeavour failed to read through few more pages to find the truth or forged it on purpose. There in sleepy wilderness of Dhamiak, dear reader, our Ghauri misfired.
Who then sleeps in the tomb of Sultan Shahabuddin Ghauri, Fateh Hind? A disemboweled kingly gut, or just deception. Definitely not what last lines of a composition by "Major General Sher Ali Hilal e Jurrat" claim on this headstone "woh ghazi dafn hey isi mitti kay dher mein"
That Ghazi sleeps under this heap of dust ???