The Jewel of Androon Lahore
There's an old seal dearly preserved as heirloom by a family in Chiniot. The impression on this seal reads:
زلطفِ شاہ جہان بادشاہ بندہ نواز
وزیرخان بجہان جاودان بود ممتاز
Through the favor of King Shah Jehan who cherishes his servants
May Wazir Khan be ever honored in the world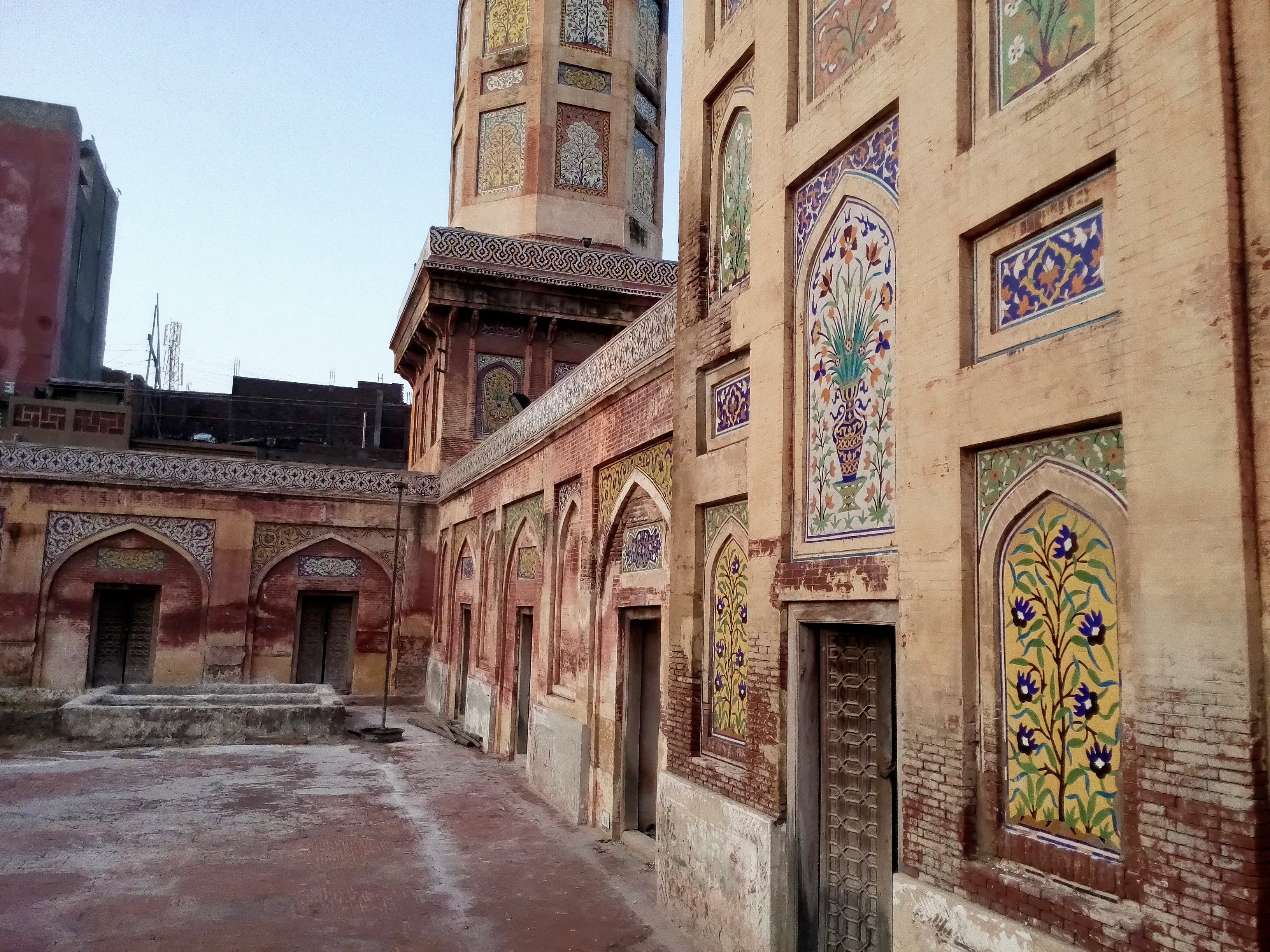 Whom we know as Wazir Khan of Lahore, Viceroy of Punjab during Shah Jehan's reign was one Hakim Alim-ud-din from Chiniot. Mullah Abdul Hamid's Badshahnama tells that the gentleman who was well versed in Arabic, philosophy & medicine entered the service of Prince Khurram in the times of Mughal emperor Jehangir.
Initially Superintendent of the Royal Household he was promoted to Mir Samaan (Superintendent of Royal Kitchen) and thence to the office of Dewan. He was then promoted to be an Amir with over 5000 personnel & equal cavalry. Owing to his crafts & skill in medicine he was prince's favourite.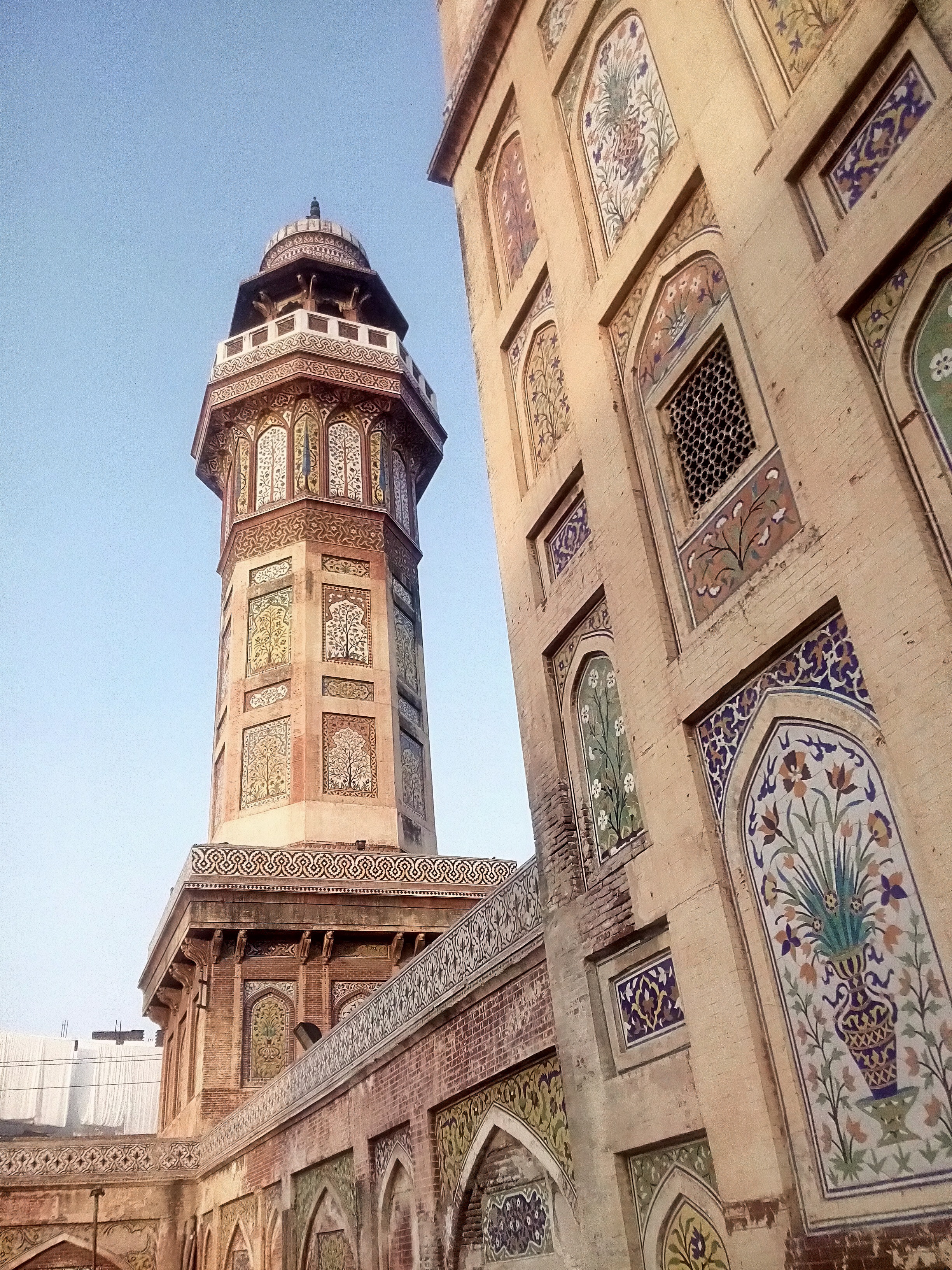 When Prince Khurram ascended Mughal Throne as Shah Jehan and held his court at Lahore in the year 1628, Wazir Khan was the viceroy of Punjab. Historian Latif tells us that outside of Lahore, Wazir Khan held a reception with much pomp and fanfare. Wazir Khan presented the emperor with jewels, gold & valuables including horses and camels worth Four Lakh (400,000) rupees. This was from the revenue collected from the province of Punjab There were yet more costly gifts presented to the emperor's court by other nobles of Lahore.
Let's now come to Masjid Wazir Khan the mosque commissioned by Wazir Khan the Viceroy of Punjab. An architectural monument of surpassing beauty and elegance (to quote the exact words of Historian Latif) graces Wazir Khan chowk inside Delhi Gate. It's a charming fusion of Mughal, Persian & Central Asian features.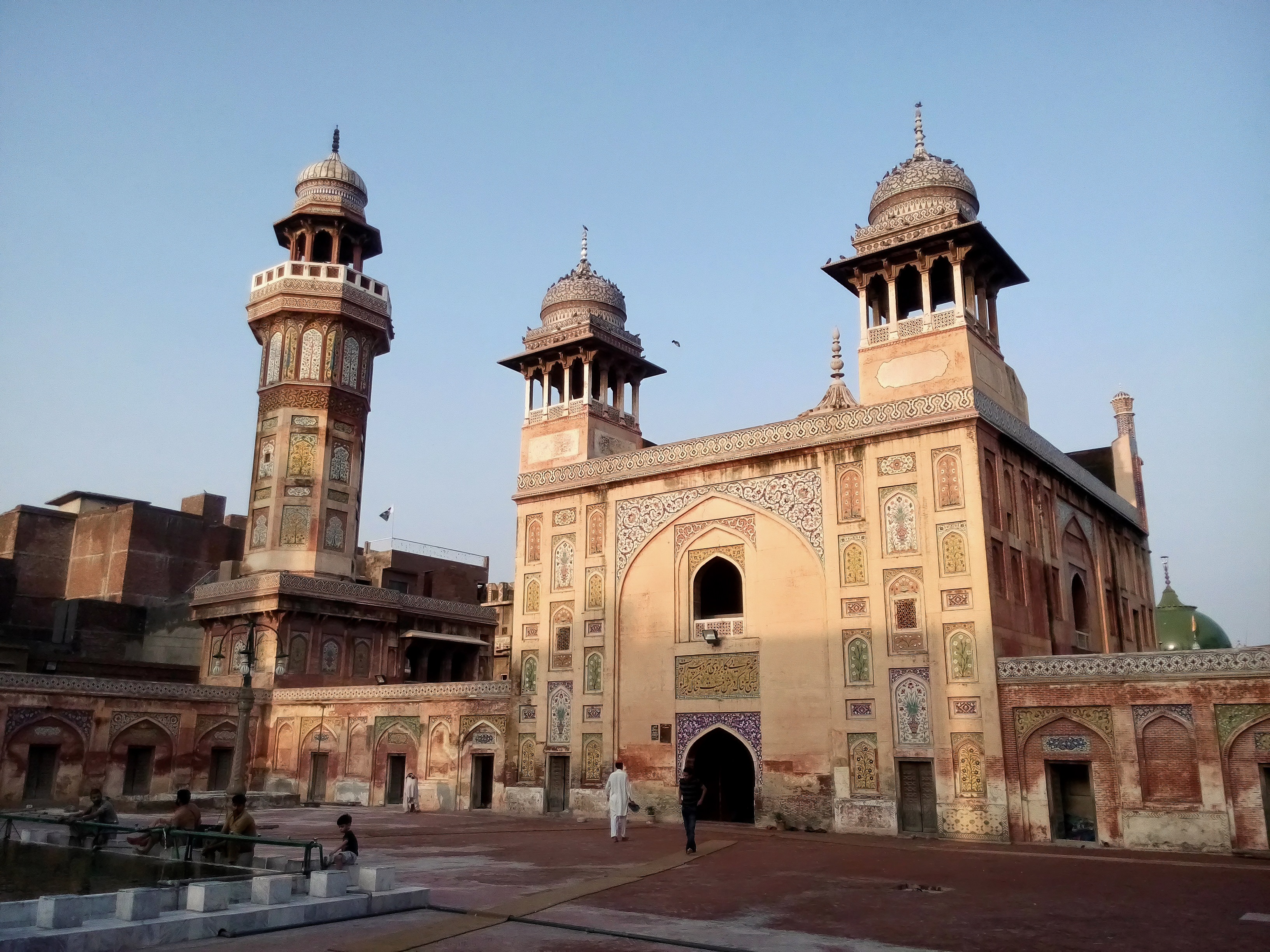 The real beauty lies in panels of pottery set in hard mortar. In between these panels are finely cut tiles/pot pieces of colourful leaves, flowers & patterns, inlaid with such perfection that it gives an illusion of a painting of great beauty. The mosque is a mesmerizing monument.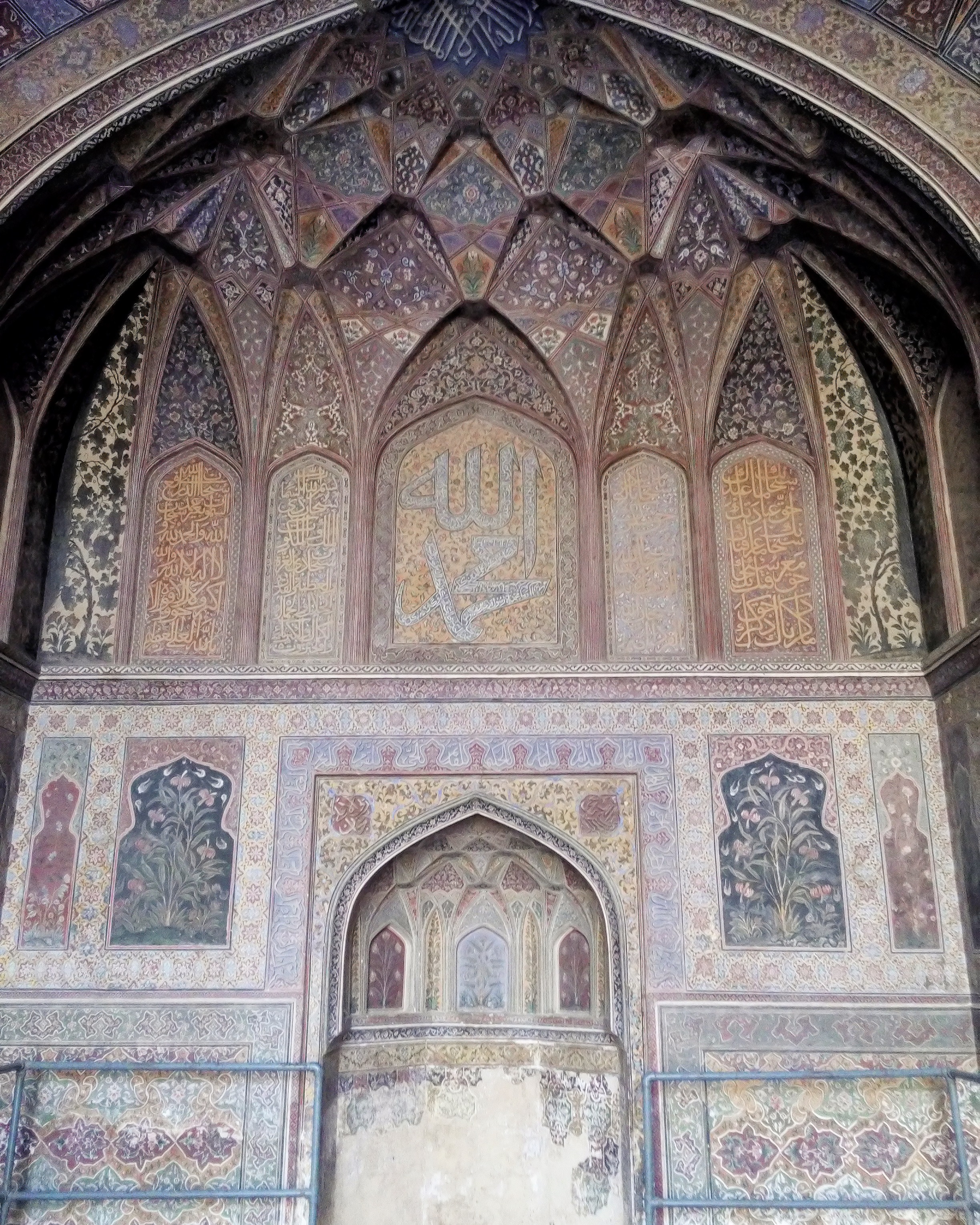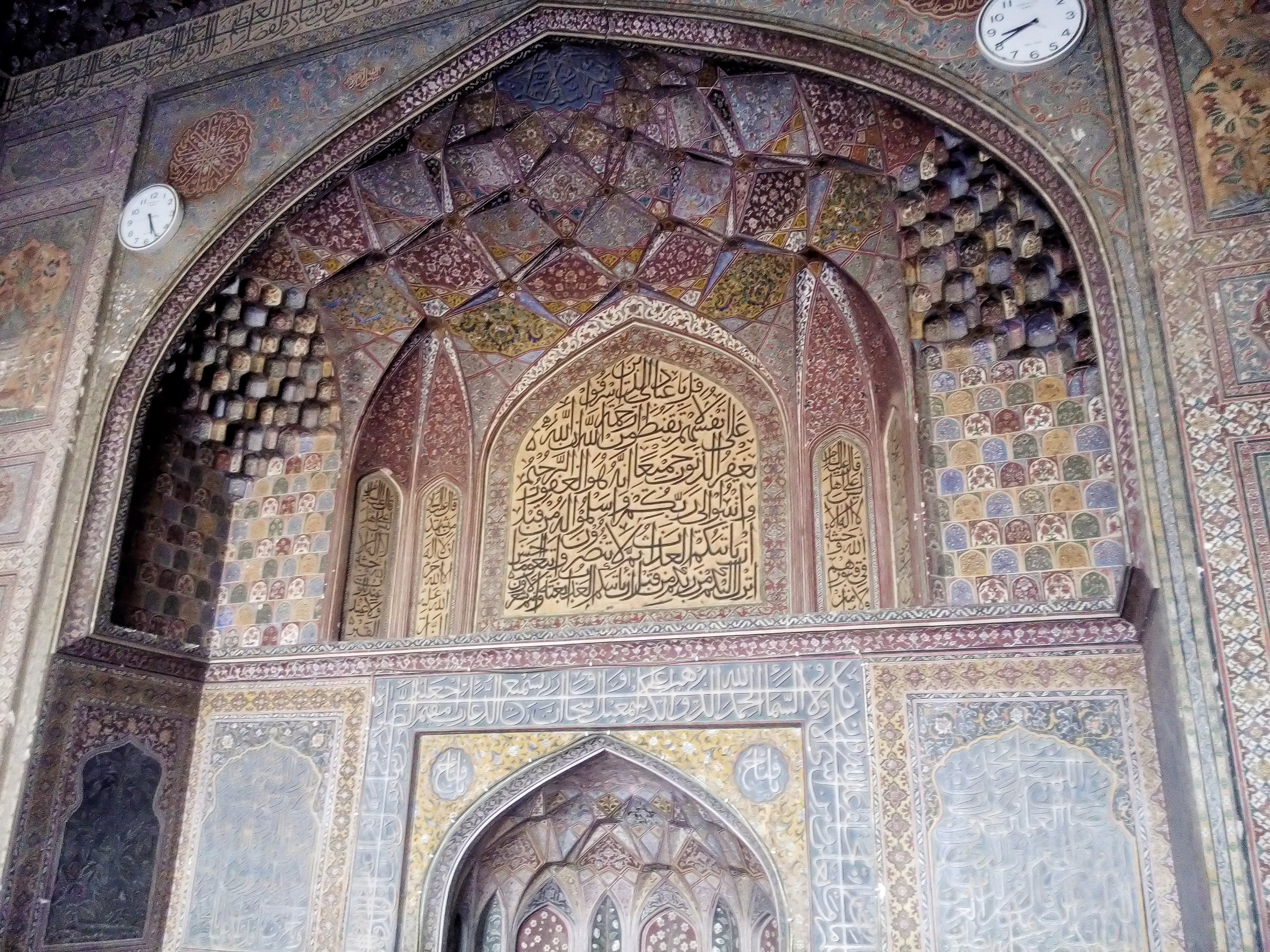 Latif tells us that Students of Mayo School of Arts were taught lessons based on Masjid Wazir Khan designs reproduced on paper To quote school's principal Mr Kipling's exact words "This beautiful building is in itself a school of design".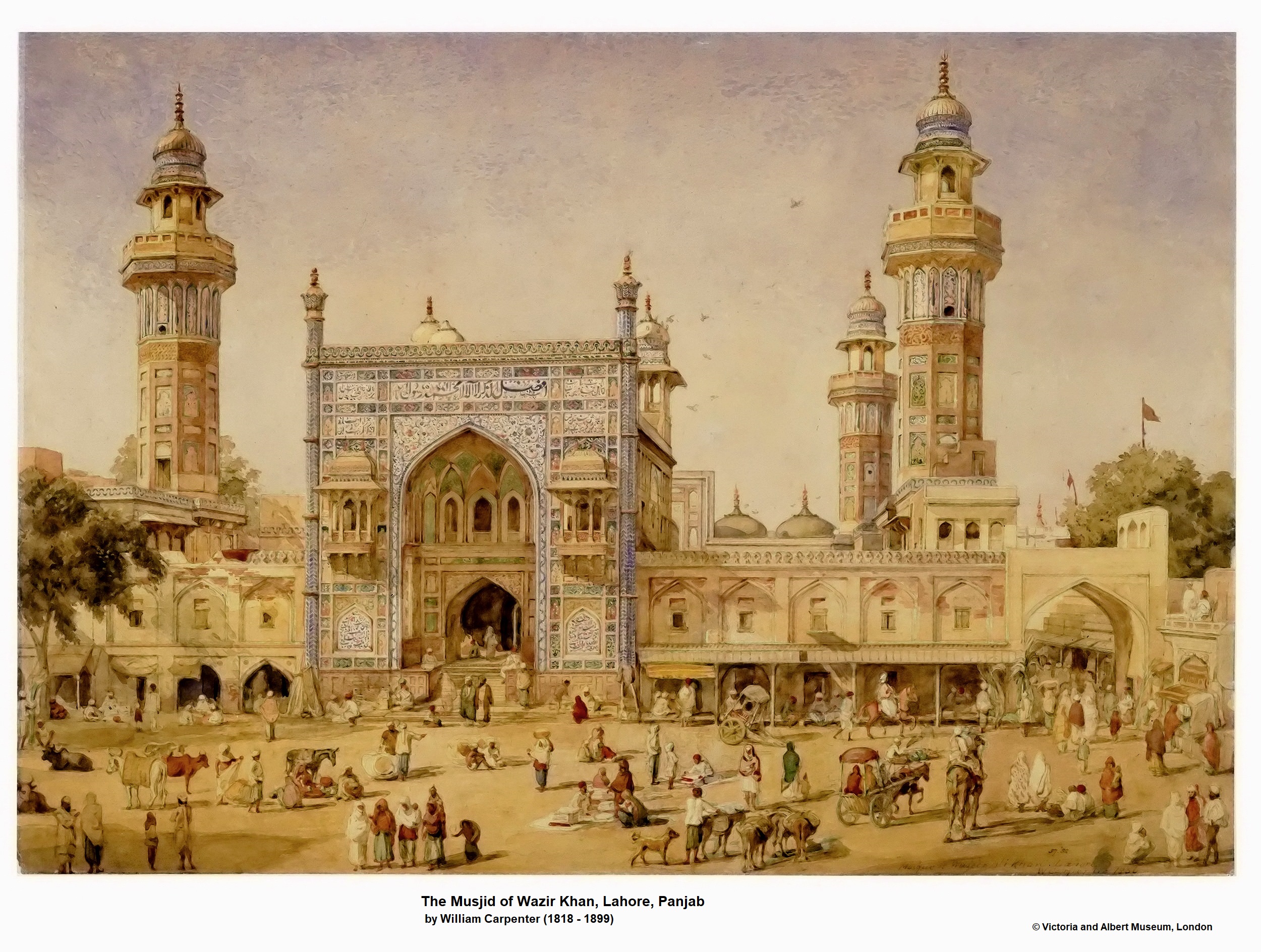 A drawing of entrance façade by Mohammed Din is intricate & charming. Inscription on top is the Shahada, while that towards top right tells the mosque was built in the reign of Shah Jehan by Wazir Khan. Couplets on top left are chronograms from which the year of construction is deduced to be 1044 AH equivalent to 1634 CE.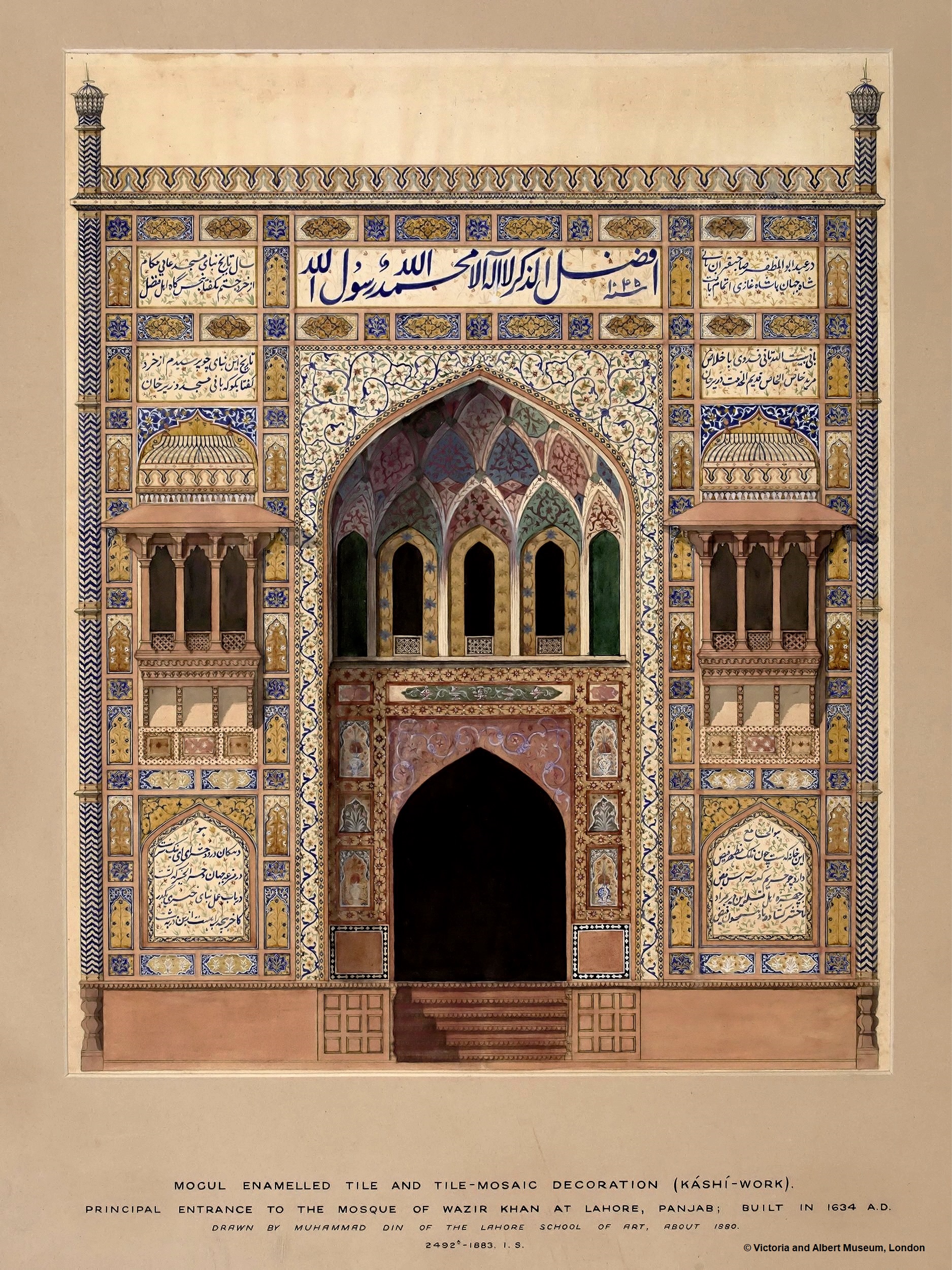 The mosque is a complex with shops on the northern & eastern side introducing a formal bazar as the entrance system to the mosque. Historian Latif here has an interesting story. Wazir Khan had willed these shops to be lent only to book binders, painters, writers & students of the mosque. A copy of deed kept with Imam Masjid declared Nawab Wazir Khan was the owner of the shops and houses on either side of the street leading from the mosque to Delhi Gate and the hammam (baths) nearby. The income from these sources was used for the support and upkeep of the mosque.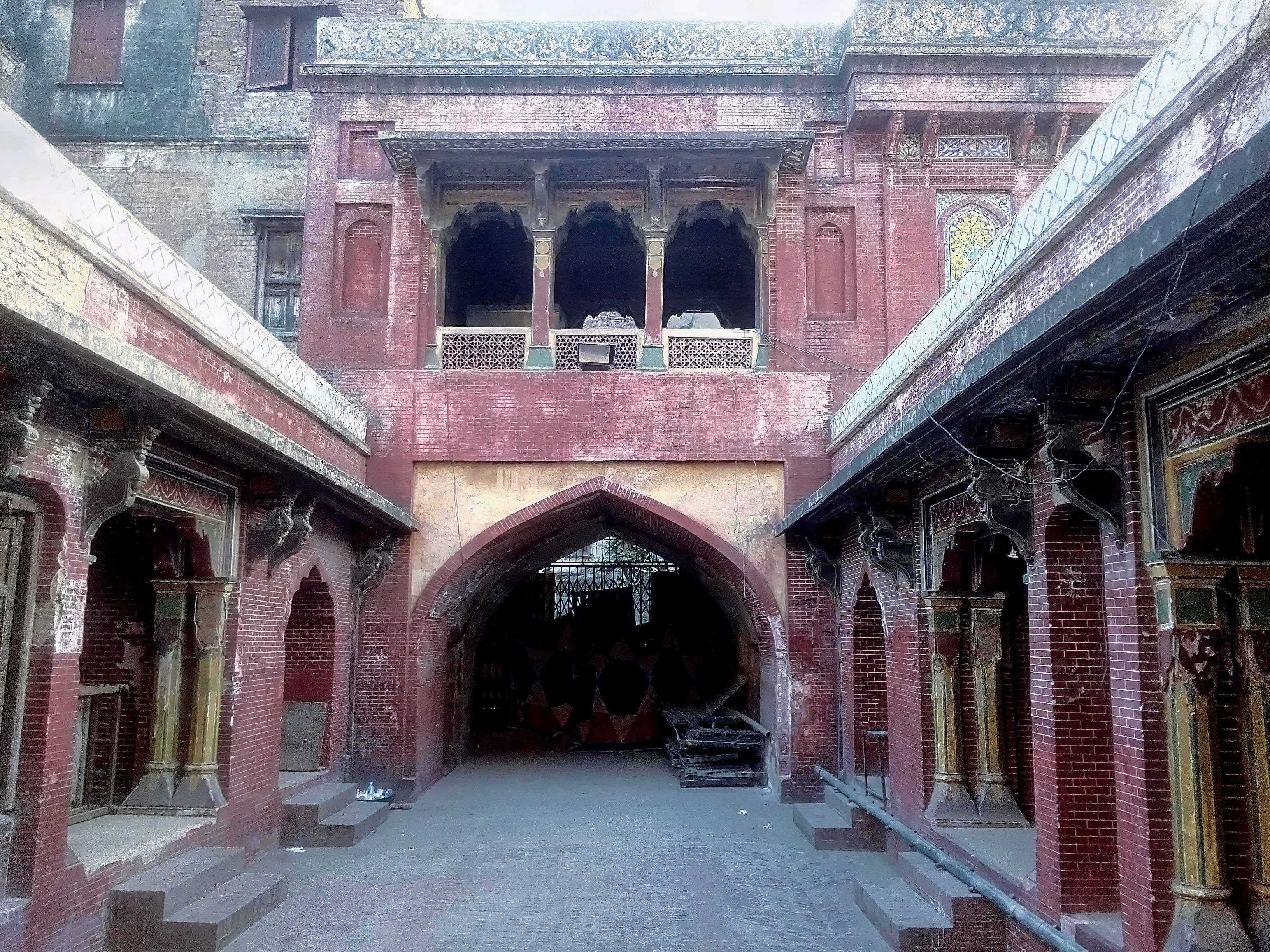 A couplet decorates the wall of mosque compound towards the exit.
محمد عربی کابروی ھردوسراست
کسی کہ خاک درش نیست خاک برسراو
Muhammad e Arabi (Sallallaho Alaih e Wasallam) is the honor of both the worlds
We are a mere dust of his threshold, if not may the dust find our heads