… and we were young!
Here dead lie because we did not choose,
To live and shame the land from which we sprung.
Life, to be sure is nothing much to lose,
But young men think it is, and we were young.
In the backdrop of scenic town of Hangu is even more scenic Samana Ridge. It now delineates the exact border between Orakzai and Hangu Districts in the province of Khyber Pukhtunkhwa. Back in the days of Raj it demarcated the boundary between the settled province of the British North-West Frontier and the volatile tribal land inhabited by Orakzais and Afridis towards north and north-west, and Mohmands towards north-east. It hosted a series of outposts on the Britain's settled frontier overlooking the shady region of Tirah, the venue of Tirah Campaign towards the end of 19th century.
It so happened that in 1897, Afridis who were in an agreement with the British to keep Khyber Pass open (they received annual sums on the understanding not to raid and plunder the caravans passing through) since the conclusion of Afghan War in 1880, decided to revolt. Orakzais were to join them later making it the most significant uprising in the Colonial Frontier. It was to mobilize the largest military contingent for British and Indian units since the War of Independence of 1857. Building on their lashkars on the go as Afridis joined Orakzais they aimed at attacking Hangu and with it Samana Ridge, the frontier to the settled lands. Here they would invest Saragarhi, a small picket manned by 21 Sikh soldiers, attack and capture it but not before the 21 would give this lashkar of thousands a bloody fight in a stand to the last man, last round. The Battle of Saragarhi will be remembered in the annals of military history as one heroic stand in which all of the 36th Sikhs' Bahadurs on that post fell to their glory.
The Romance at Thal and Samana
In 2003, I and Mani were to celebrate our first wedding anniversary. I was stationed at Thal since 2000 and Mani had joined me after our marriage (good old days when Thal was still a family station, this status was subsequently lost to being an operational outpost in the ongoing War on Terror). While at Thal, the gateway to Kurram Agency, we decided to commemorate one year of companionship through a visit and short stay at the nearby hill station of Samana, the then NWFP frontier with Orakzai Agency. Samana housed Divisional Battle School and was a refreshing abode when we visited in early August. It was a nice stay with our moments of simple fun and laughter.
Not much of a military establishment Samana still had some places of interest. A colonial era fort, two in fact, and a memorial obelisk commemorating a battle action from 1897. I don't vividly recall the exact inscription on the obelisk back then (the only picture with me being that of the monument snapped in the background as I stood in front) but it said something about the gallant action by Sikh soldiers who fought the Pathan lashkar on this remote outpost of Colonial frontiers. 36th Sikh it was and there were names of 21 soldiers inscribed on it. It left me with a riddle as to what business Sikhs had on this desolate outpost on the North-Western frontier. For finding the answer, dear reader, we will head back to late 19th century and its Pathan uprising.
Samana in 1897
Tribal uprisings on the Frontier had a habit of appearing out of nowhere, and that of 1897 was no exception. There was some warning in 1897, because the tribal gatherings (jirgahs) had been debating the pros and cons of a rising against the government, but no-one could have guessed the extent of the uprising, nor the speed with which it swept through the tribal areas like prairie fire. From Swat to Waziristan the tribes rose in their tens of thousands – Afridis and Orakzais, Mahsuds and Mohmands – egged on by their religious leaders, the Hadda Mullah and the Mullah Powindah.
The year was 1897 and Samana ridge was defended by 36th Sikhs, a regiment composed entirely of Sikhs, commanded by Lieutenant Colonel John Haughton, rightfully remembered as 'Hero of Tirah'. The 5 mile long ridge was dotted with Fort Lockhart (also called Fort Mastan) on the eastern end and Fort Cavagnari (also Fort Gulistan) on the west. Fort Lockhart was constructed in 1891 on the conclusion of Miranzai expedition and was named after General Sir William Lockhart who was then commanding Kohat Garrison. Almost in the center where the ridge reached it's highest point an 'outcrop of rock' interrupted the line of sight between the two forts. Exactly at this point was raised Saragarhi outpost as a signaling station between the forts. All three stations were equipped with heliographs as the only means of communication.
With 36th Sikhs almost equally split on forts on either side of Samana ridge, Saragarhi was lightly manned with a notion of being reinforced from one of the forts when situation arised. Owing to its role of keeping communication running within 36th Sikhs, defence of Saragarhi was critical, and when the situation would come, it would be defended to the last man, last round, in literal sense of the expression.
Just as per their habit, the tribal uprising of 1897 sprung quite unexpectedly in the words of James Lunt as quoted in the beginning of this section. It was the morning of 11th September 1897, when a large Afridi Lashkar appeared from the Khanki Valley, from a direction south east of Samana Ridge. The tribesmen consisting of a force of around 10,000 with 22 standards (battle flags representing a fighting clan or force within a large army) initially aimed at attacking Hangu and Shahu Khel. This attempt was successfully tackled by Major General Yeatman Biggs through effective employment of 1-3rd Gurkhas, a company of Royal Irish Regiment, a detachment of 15 Sikhs and 2nd Punjab Infantry. Little did they know that this lashkar having failed an attempt on Hangu will shift their approach and invest Samana ridge from the side of Fort Gulistan. The morning of 12th September saw a lashkar of 8000 – 12000 Afridi and Orakzai tribesmen investing Gulistan and cutting off Saragarhi from Fort Lockhart. The small communication outpost now faced swarming tribesmen in thousands, a sight never seen from the ramparts of Saragarhi before.
21 soldiers in total manned Saragarhi. They were mostly young with less than 5 years of military service. Majority of the men belonged to Signal Platoon, trained in the use of heliograph and semaphore. Their commander was Havildar Ishar Singh, a Jat Sikh from Punjab, quite a character he was, as Major General James Lunt put it:
His career in many ways was a reflection of the advice given to young British officers when first they joined a Sikh unit: 'Work your men until they drop and you'll find they make the best soldiers in India; but if you relax and let them idle around in barracks, there's no kind of mischief known to man they won't become involved in.' Thus Ishar Singh – in camp a nuisance; in the field magnificent!
Magnificent he was, for Ishar Singh under orders from Colonel Haughton to hold the fort would decline the offer to surrender from tribals. He would then assemble his soldiers and inspire them to fight a battle under heavy odds. That balmy morning of early autumn on the border of Orakzai lands and the North-Western frontier of British Empire witnessed a meager count of twenty two standing up and embracing an army of thousands… head on!
The Battle
The earliest accounts of what happened at Saragarhi come to us through despatches sent by a special war correspondent of 'Allahabad Pioneer mail' who visited Saragarhi ruins along with the relieving force from Hangu when the post was retaken from tribals a day later. Much of the detail of what happened on adjoining area of Hangu and Khanki Valley comes to us from the despatches of Major General A. G. Yeatman Biggs, then commanding the Kurram-Kohat Force. The same were published as part of the "subjoined letter from the Adjutant-General in India" in London Gazette in their issue of February 11, 1898. While these accounts depict the battle as a heroic last man stand they fail to give us a detailed account of what actually happened at Saragarhi.
The Commander-in-Chief deeply regrets the loss of garrison of Saragarhi, a post held by 21 men of the 36th Sikhs, and he wished to record his admiration of the heroism shown by those gallant soldiers. Fighting against overwhelming numbers they died at their post, thus proving their loyalty and devotion to their Sovereign while upholding to the last the traditional bravery of the Sikh nation.
Then there was a letter titled "Two Brave Queensland Women. Gallantry of the Sikh Soldiers" from Major C. H. Des Voeux of 36th Sikhs, the commander at Gulistan Fort. The letter written on 18 Sep 1897 (6 days after the Saragarhi Battle) was published in "Western Star" in Australia on 27 October 1897. It said of the men at Saragarhi that they fought like demons.
The fort next to us, with twenty-one men of mine and one follower, was taken by storm and fell at 3:40 p.m. on the 12th. The whole garrison were killed. I hear they died fighting like demons.
There were no survivors to tell the tale of individual bravery. The initial signal with the detail of the predicament, the tiny outpost of Saragarhi faced in front of swarming contingent of tribesmen was communicated to Fort Lockhart via heliograph. The young signalman Gurmukh Singh was the sender of this message to which the helio from Fort Lockhart conveyed Col Haughton's message, "Hold Your Position". The 'winking helio from the high roof of Saragarhi' would dutifully communicate the progress of battle to Fort Lockhart as the 20 men under Ishar Singh engaged the enemy from loopholes on Saragarhi rooftop and later a hand to hand battle in the post quarters. In that there should have been a battle account in terms of well recorded signals log at Fort Lockhart. What a shame that present day 4 Sikh (36th Sikh of the British Raj) could not hold on to that precious document.
We, dear reader, do have another document of precious value. In his memoir published in 1900, titled 'Lieutenant-Colonel John Haughton, Commandant of the 36th Sikhs, A Hero of Tirah', Major A. C. Yate of 2nd (Duke of Connaught's Own) Baluch Battalion has included a long letter written by Colonel to his wife. This valuable letter gives us a battle account written immediately after the attack on Saragarhi between September 13 – 15th, 1897. In 2017, Captain Amarinder Singh of Indian Punjab in his very well researched book "Saragarhi And The Defence Of The Samana Forts" has recreated the conduct of battle at Saragarhi on 12th September 1897. The snippets from Colonel Haughton's letter combined with Captain Amarinder's recreation of the battle scene bring to us a fascinating tale of valour.
At twelve o'clock Saragarhi Signaled that they had one sepoy killed and one Naik wounded, and three rifles broken by the enemy's bullets. We saw the enemy make at least two assaults on the post, but they were driven back.
Captain Amarinder Singh tells us the first one to embrace the path of supreme sacrifice was Sepoy Bhagwan Singh with Naik Lal Singh getting seriously injured. As the second wave of assault died down, Sepoys Boota Singh and Sunder Singh got added to the casualty list as killed in action. This was the time once the first attempt to relieve Saragarhi was made from Fort Lockhart but the party had to retreat under overwhelmingly effective Pathan fire.
Saragarhi warriors were armed with Martini Henry famously knowns as Three Not Three (.303). This single shot breach loaded rifle with a count of 400 rounds per weapon was no match to the assaulting thousands. The tenacity and steadfastness displayed by 36th Sikhs in holding the fort speaks of employment of better fire discipline and battle tactics by the commander Havildar Ishar Singh. But then they had a greater predicament. As Pathans launched another assault anew, they had a plan. A seasoned battle tactics known to have employed earlier they were able to sneak in a few soldiers just beside Saragarahi walls, a location dead to the fire from top battlements. Armed with daggers and crowbars they dug up the ground and were able to move enough blocks from the wall to secure a breach.
Captain Amarinder tells us that at this time Havildar Ishar Singh sent down Lance Naik Chand Singh with three sepoys in the main block to tackle infiltrating Pathans. These sepoys were next on the casualty roll of Sikhs that was now mounting. In six hours of fighting, nearly half of the Saragarhi manpower either lay dead or were wounded. Having conveyed the loss to Fort Lockhart Ishar Singh now ordered his men to leave the loopholed battlements and get down to the main block for a hand to hand fight. Major General James Lunt gives us a figurative account of these moments.
Now Ishar Singh knew that the game was up. Returning to the roof, he flashed his last message to Fort Lockhart. The enemy was in the fort – the Sikhs were overrun but would not surrender. Then, placing the heliograph carefully in its case, and leaving it in a corner by the battlement, he went down for the last time to join his men in their final stand. Somewhere in the midst of this holocaust of blood, smoke and flames Havildar Ishar Singh of the 36th Sikhs fell to a Pathan's knife. Soon there was only one soldier left on his feet, Sepoy Gurmukh Singh; and he died, as so many Sikhs had died before him, shouting the Sikh war-cry – 'Wake Guru ji ka Khalsa, Wahe Guruji ki Fateh!' Saragarhi had been defended to the last man and the last round. "
In the final moments of the battle our Naik Lal Singh who was wounded in the beginning of the battle is reported to have locked the room and refusing to budge to the enemy started rifle fire accounting for some casualties. In the utter despair Pathans set the main block on fire. Lal Singh was killed in the fire that eventually raised Saragarhi to ground.
At three o'clock I came to the determination at all costs, to try and make some diversion; so, as soon as possible afterwards, Mr. Munn and I with ninety-eight rifles went out, leaving seventy-three men to defend Fort Lockhart….We had only gone about three-quarters of a mile when we saw Saragarhi taken by the enemy.
The next day when the relief from Hangu arrived and the enemy dispersed under the artillery fire as the force moved to Gulistan and came upon the ruins of Saragarhi, the Special Correspondent from Pioneer in Hangu in his narrative recorded:
Saragheri was a piteous sight; the fort, which only two days before we had deemed impregnable unless reduced by want of ammunition, water or food, was almost levelled to ground, while the bodies of its gallant warriors lay stripped and horribly mutilated amid the ruins of the post they had so bravely held.
In recognition of their brave stand all 21 soldiers at Saragarhi were posthumously awarded Indian Order of Merit (IOM), the highest and only gallantry medal available to native soldiers before 1907. The award also carried the grant of land and cash reward for the soldiers' dependents. But then there's more to our Saragarhi story.
There were eye witness accounts of valour told by enemy when a peace accord was signed with tribals a few months after the Saragarhi battle. Tale of a soldier inside the guard room taking down 20 invaders before getting burnt inside. Tale of another wounded officer who while incapacitated on his charpoy shot down four before being overpowered by the invaders. There were tales of another warrior, a man not accounted for in other narratives. For dear reader, there were not twenty one, but twenty two men at Saragarhi and all had fought and died on the day of the battle.
Number 22: The Lost Warrior of Saragarhi
Other than the obelisk at Fort Lockhart commemorating 21 warriors there once stood a brick cairn at the Saragarhi Outpost. They say it was raised from the remains of Saragarhi post at a place where the 21 Soldiers of 36th Sikh were cremated after Saragarhi outpost was taken back the next day. On that sad day there was one body that was not laid onto the pyre, and we have reasons to believe he was a Muslim.
Of the original accounts from Saragarhi Battle that we came across in our section on 'Conduct of the Battle', only one mentions a 'follower' stationed at the outpost along with 21 Soldiers and that he fought and was killed in action. It was the letter from Major C. H. Des Voeux of 36th Sikhs, the commander at Gulistan Fort written on 18 Sep 1897. We do not come across other details as to name or rank. Being a follower he was likely a Non Combatant Enrolled (NCE) as Sweeper and in all likelihood must have been a local enrollment from North-West Frontier Province.
Captain Amarinder Singh in his book "Saragarhi And The Defence Of The Samana Forts" comes up with more details (although no direct source is quoted). He tells us that our 22nd warrior at Saragarhi was named Daad, was it the first name or surname, we don't know. Daad probably came from Naushera to enroll as a regular in the British Army but could not make it owing to medical standards of fitness. He eventually enrolled as NCE on an existing vacancy and joined 36th Sikhs.
Now Sargarhi Outpost did not have a cook on their roll, so our man Daad performed both the duties, cleaning the post and cooking for soldiers. As per existing rules of the then British Army NCsE were not allowed to take up arms and were not expected to fight. Fight is what Daad did and accounted for 5 Pathan intruders probably using a rifle or bayonet of a dead Sikh warrior. This was what reported through the tribal accounts after the peace treaty was signed. Where 21 Soldiers of 36th Sikhs were awarded IOM along with monetary and land benefits, Daad conveniently escaped attention, not even an honourable mention in war despatches. We don't know much about his descendants, neither we know the details on burial of his body after the battle of Saragarhi. What we do know is that in the moments of conscious decision making he chose to fight side by side Saragarhi warriors and was killed in action. In 1897 the British omitted him but in 2017 Captain Amarinder Singh of Indian Punjab dedicated his book on Saragarhi to Daad, the unsung 22nd Warrior.
Saragarhi – The Legacy
In today's Fort Lockhart, away onto an isolated ridge stands tall the obelisk commemorating 21 Soldiers of 36th Sikh, the warriors of Saragarhi. The plaques are recently reinstalled with names both in Urdu and Gurmukhi on these.
In the Indian border town of Firozpur, inside the cantonment as Fazilka – Firozpur road snakes through it, just there in the vicinity is located Saragrahi Gurdwara.
Tucked into the center of Amritsar Cantonment, shadowed under recently built Saragarhi Serai, is another Gurudwara that remembers Saragarahi Warriors. Surrounded by Sikh soldier figures of British army, this gurdwara was built in 1902.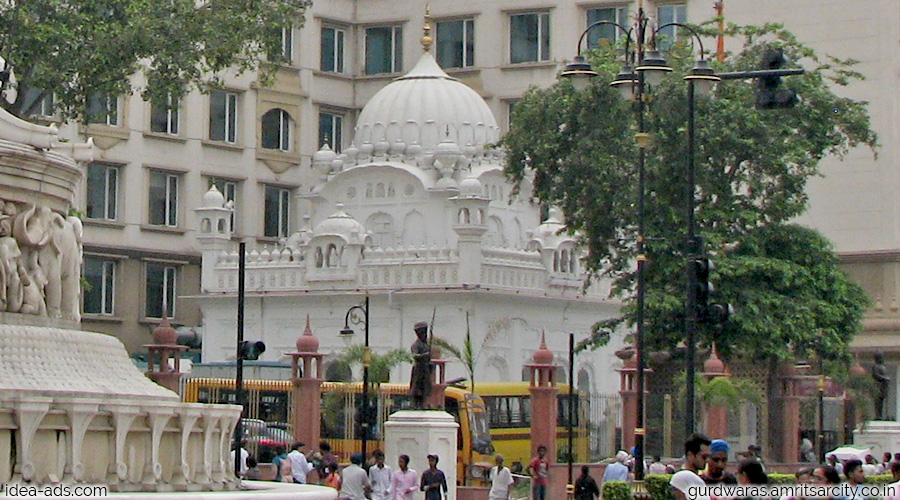 The sacrifice of 22 warriors of Saragarhi was celebrated as a magnificent last stand in the history of British Army. The gallant fight by the soldiers of 36th Sikhs met an all out praise within India and Great Britain, even Australia, where the letter written by Major C. H. Des Voeux appeared in the newspaper. An army order promulgated September 12th as annual holiday to be celebrated as 'Saragarhi Day' by all regiments where Sikhs were enlisted. Saragarhi, the greatest achievement of 36th Sikhs' 22 immortal martyrs has setup a unique benchmark for the Sikh Regiment. The present day Indian Army's 26 Sikh battalions, all of them, share a common pride; they all celebrate Saragarhi as the Regimental Battle Honour.
On Saragarhi's ramparts died the bravest of the brave,
Neath Saragarhi's ruined walls they found a fitting grave,
For Saragarhi bears the fame,
They gave their lives to save.
---
References
Taken from Lieutenant-Colonel John Haughton, Commandant of the 36th Sikhs, A Hero of Tirah, A Memoir by Major A .C. Yate, 1900, following are the letters written by Colonel John Haughton, CO 36th Battalion to his wife, immediately after Saragarhi Battle. A photo album at flickr can be accessed here.
Eight pages from London Gazette in their issue of February 11, 1898, including Despatches of Major-General A.G.Yeatman-Biggs, then commanding the Kurram-Kohat Force, published as part of the "subjoined letter from the Adjutant-General in India". A photo album at flickr can be accessed here.
The Risings on the North-West Frontier, Compiled from the Special War Correspondent of the 'Pioneer', Allahabad, Pioneer Press, 1898
SARAGARHI: Sikhs and Pathans – 1897, James Lunt, History Today, Apr 1977
Saragarhi And The Defence Of The Samana Forts, Amarinder Singh, 2017
Saragarhi Warriors: A few years ago a project to bring back to life the forgotten warriors of Saragarhi waas envisioned and undertaken by Gurinderpal Sing Josan. Based on the interactions with and depictions obtained from their family members (where possible) portraits of Saragarhi Soldiers in this thread are painted by Jagdeep Singh Billing. The source of the following pictures is this facebook page ਸਿੱਖ ਇਤਿਹਾਸ {Sikh History}