Deciphering Myth from Brick
My readers from an earlier story would recall this exquisite mehrab from a tomb near Kabirwala. A script in brickwork tells us that it was constructed on the order of Ali Bin Karmakh, the 12th century Ghaurid governor of Multan.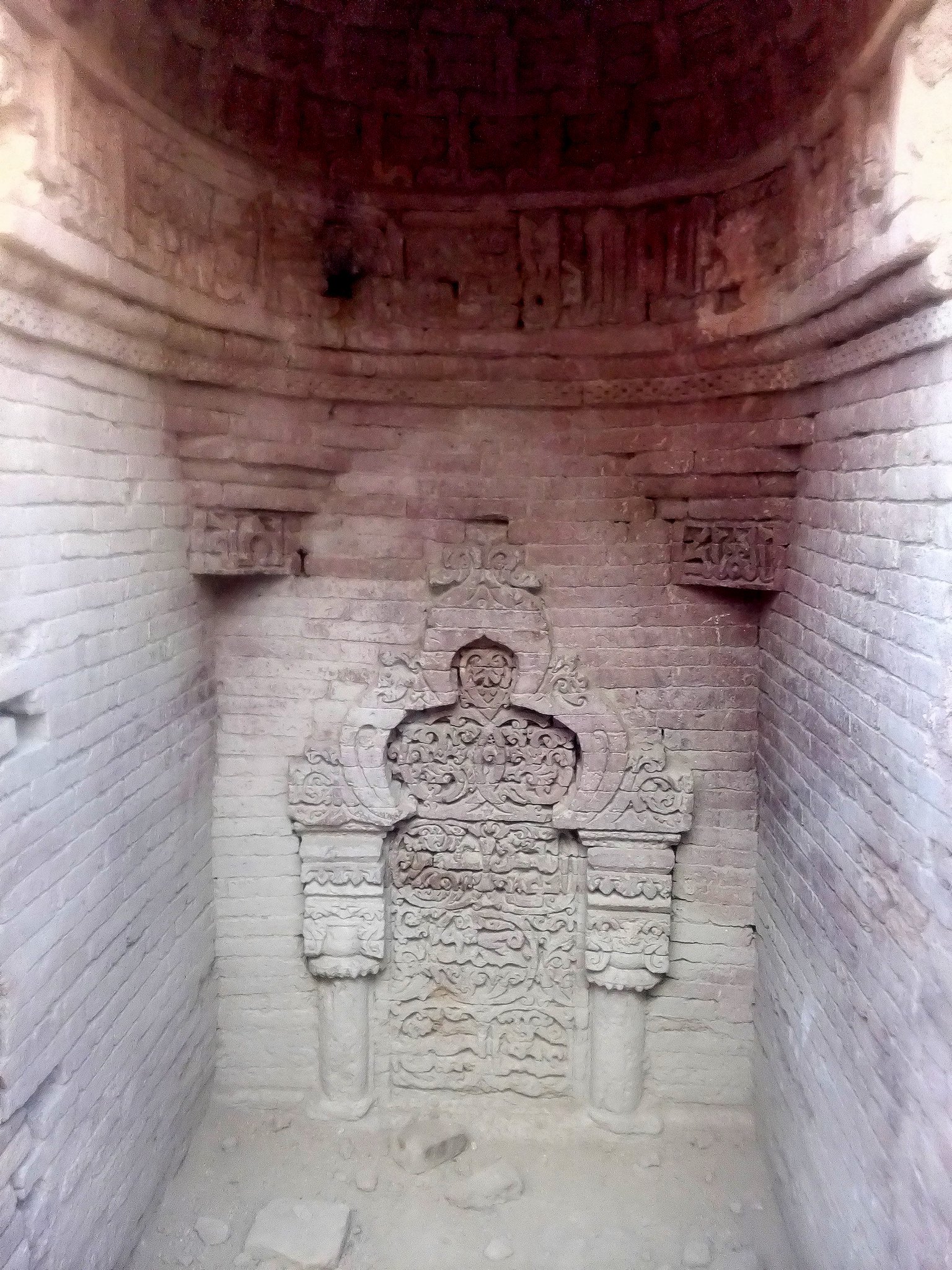 Let's take a short trip across Chenab around 10 miles from Kabirwala tomb (as the crow flies) to another monument near Head Muhammad Wala. Sheer volume of script & decoration make it unique. Raised on high plinth it represents the exalted status of whoever is interred here. This is tomb of Sheikh Sadan Shaheed.
It's more than that…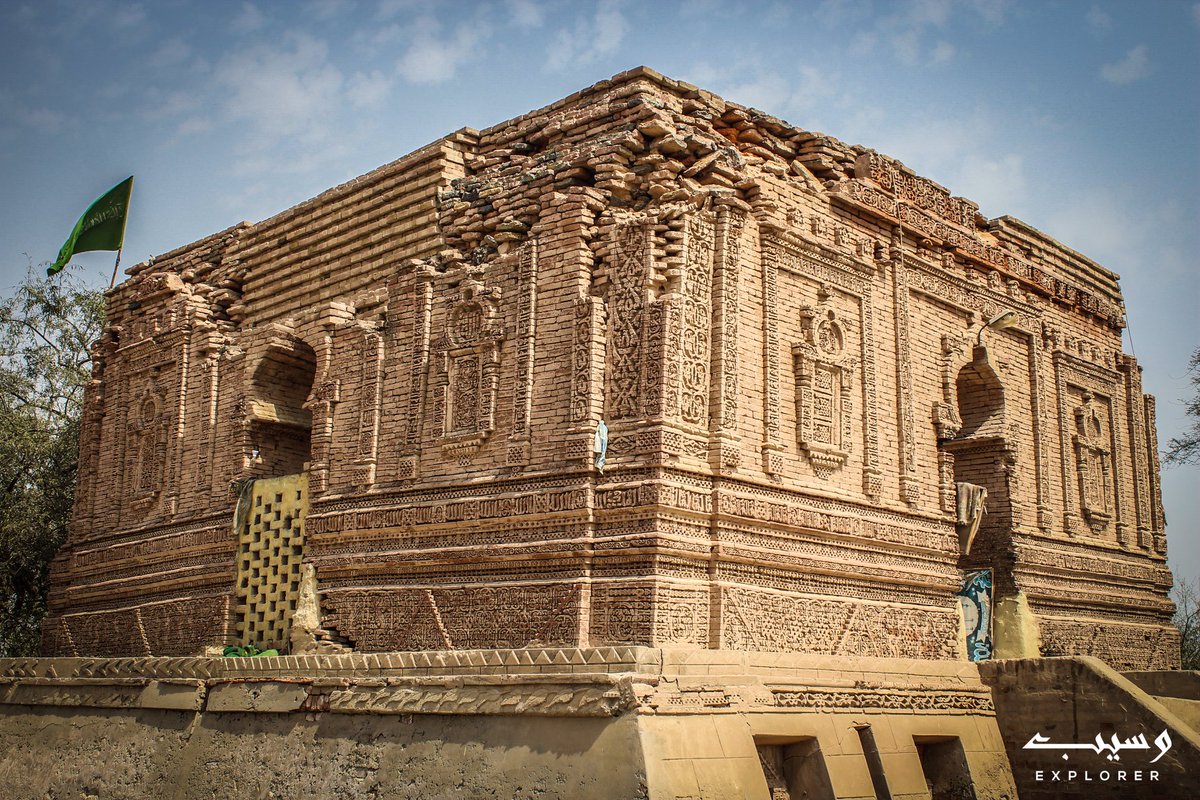 Local lore tells us Sheikh Sadan Shaheed's descendants were Arab by origin who landed with Muhammad Bin Qasim in early 8th century. He died fighting Mongol invasion in Punjab and that happened around 1275 CE. The grave is elongated and magnificent in size in line with typical naugaza shrines found across Punjab.
The riddle lies in the script.
A Quranic inscription in Naksh on foliated background decorates the eastern facade. It's not fully preserved, still we find Bismillah followed by verses 1-3 for Surah 48, Al Fatah (victory). This tells us that we are likely to have a fallen mujahid/martyr buried here.
Fun Fact: Surah Al Fatah in its entirety appears on the Minaret erected at Ghazni by Ghaznavid Sultan Masud III (1099 – 1115 CE). Excerpts from Surah Al Fatah are also found on Delhi monuments after the Ghaurid rule in 12th century.
A prominent architectural element are the blind windows (gavashka or master niche) on all four sides. The head has word Allah in cut brick work. The borders and base line have these Islamic invocations in Kufic script Ya Allah & Al Mulk O Lillah (dominion belongs to Allah.
On one side this Kufic script links to 11th and 12th century religious monuments of eastern Iran and Afghanistan. On the other hand their repetitive use is characteristic of 12th century Hindu temples in western India where figural imagery was used in repetitive pattern.
Interestingly, the master niche on southern facade is in complete contrast to others facades. The word Allah in the head is replaced by vegetal ornamentation. Both in the base molding and on borders Ya Allah and Al Mulk O Lillah is replaced with words alif laam meem.
This different treatment and relegation of religious symbols on southern face is believed to be an old Hindu tradition in Indus Valley region. In Hindu belief, so they say, south is the direction of death and evil. Temples have their south facades adorned with god of death, Yama.
Inside the tomb there's a terracotta plate of which only a part survives. In clear Naksh it says amara bi-bina (constructed on the order of …). My readers if relate this inscription with the first picture in this post, it indicates that our tomb of Sadan Shaheed is most likely a contemporary of the one near Kabirwala.
Based on the epigraphy, our tomb is estimated to date around late 12th / early 13th century. It has an architectural element typical to Gahurid patronage from eastern Iran and Afghanistan. It boasts this beautiful trans-cultural fusion with Hindu architecture from Western India.
My dear reader, our saint did not descend from the invaders of the south, the army of Muhammad Bin Qasim. He even didn't fight Mongols.
He indeed was a raider, but from west, a Ghaurid aiming at Ismaili Multan. Ismailis, whom raiders from west considered heretics.
Was he indeed Sheikh Sada? we don't know.
We might never know …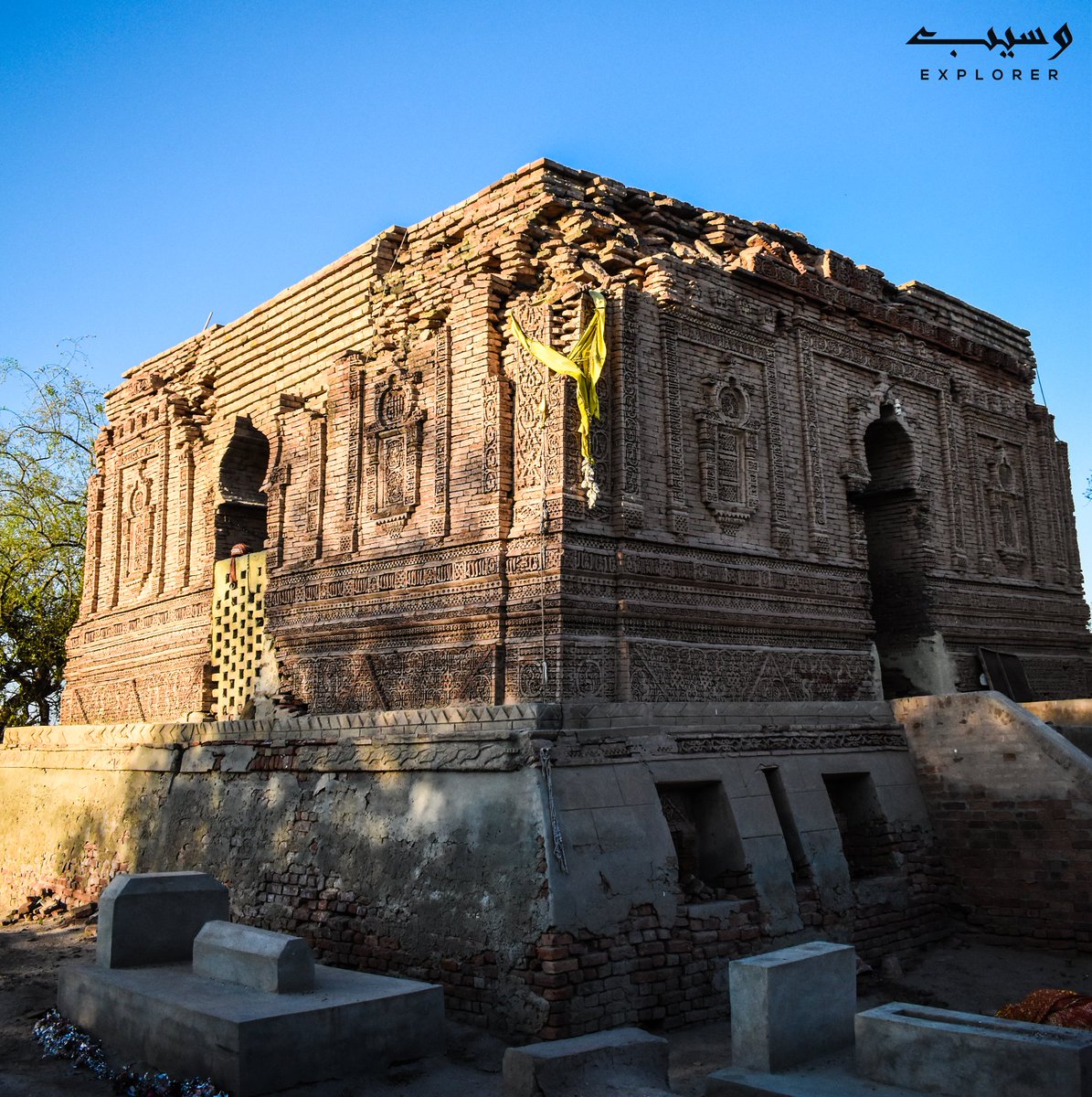 ---
Credits
Pictures in this thread are from a dear friend Dr Muzammil Hussain of Wasaib Explorer
Pictures of Minaret of Shah Masud III in Ghazni from http://archnet.org
'Ghūrid Architecture in the Indus Valley: The Tomb of Shaykh Sādan Shahīd' a research paper by Finbarr B.Flood