Missing believed Killed in Action
Mukhtiar was Company Havildar Major (CHM) of Ubaida Company in Pakistan Military Academy Kakul. Tall height, smart bearing, pointed fauji moustache curved upwards on the ends, wearing a blood red diagonal sash over khaki uniform starched to a razor sharp crease, royal blue beret, trademark color of army's corps of engineers, shining spotless drill FTs with hammered heels the sole of which never missed a stud. He was like any other drill staff in the academy, the epitome of dress, discipline and drill.
For the initial three terms Ubaida was my company and Mukhtiar my CHM. Now all drill instructors by design are meant to be demanding, monotone harsh and unforgiving, but then they also get to pick their favorites. The 'good books' of PMA drill staff is that dreaded anti shin-bone Rafiullah Drill Square and to qualify one ought to develop a 180 degrees arm swing, knee raised to chest height and brought down in a swift nano-seconds movement and to top it all foot stomped on the ground generating a pressure of few hundred decibels. One of our Drill Subedar Majors from the Corps of Signals summarized it in these immortalized words 'Sahibano! Paoñ uthay lagay dabay, pata na chalay!' (the said SM got immortalized in the course chronicles with the title SM Shurlee but that's a tale for another day). A select few achieve this legendary standard and make it to the good books of PMA drill staff. I, dear reader, was from the other kind and with it came the consequences. Now returning from the Physical Training or Halls of Study when the pack of drill instructors is let loose on the herd of cadets marching on PMA Road to pick their kill, with their trademark caution "Ruk Saahb! Shout Number Saahb!" CHM Mukhtiar to me would simply say "Imran Saahb Ruk! (CHECK ONE TWO). Poor marching! Aap Saahb aaj after the last period ke baad 'performa' dekh lena!" The conversation with Imran saahb would plainly translate to "being a regular customer I have memorized your Gentleman Cadet Number so you just need to check the entry on the list". My intelligent readers must have realized that "performa" was in fact the daily pro forma for the punishment parade roll call through which Extra Roll Call(s) (ERCs) or sometimes Extra Drill (ED) were awarded commensurate with the degree of offence that varied from as grave as smiling, or marching improperly or loose belt to as trivial as a twisted shoe lace.
Sailing through this love-hate relationship with the Drill Staff with an undertone of respect (carried and treasured for life) we passed out to become officers. As the choice of Arms I had opted for the Corps of Engineers, Artillery was my second choice. Gunnery was to be both my destiny and friend for the rest of my army life as I was commissioned into a field artillery regiment. That was the first time I missed joining Military College of Engineering and with it a chance of visiting Risalpur.
Risalpur: A visit that was skipped
As a gunner Second Lieutenant I was attending Basic Course at School of Artillery Nowshera when out of nowhere near Badrashi I bumped into Mukhtiar. He was now a Naib Subedar posted to the Engineers Center at Risalpur as Drill Instructor. After the exchange of pleasantries he extended an invitation to visit him. There were other invitations too. Shafqat and Imran Shafi, old friends from Karachi college days, were studying Aeronautical Engineering at Risalpur had come to pay me a visit at Nagi Block of School of Artillery and invite me over. The life of an Artillery YO (Young Officer), dear reader, has other torments; solving a met (meteorological) message, CP (Command Post) Exercise, Gun Drill and more. I couldn't spare time and missed a second chance to visit Risalpur. I had skipped both the chances of knowing Captain Nisar Ahmed Shaheed, Sitara e Jurrat.
A present day visitor to Risalpur, other than Nisar Shaheed Road and Nisar Shaheed Park would also come across Nisar Shaheed Degree College. The legacy of a Pakistan Army Commando from Engineers Corps who fought byeond the ceasefire line as part of Gibraltar Force. If one happens to visit Cherat where Pakistan's Special Services Group is headquartered, Nisar's name is second from top after that of Maj Muhammad Sarwar of Armoured Corps on the honour roll. The entry on the board reads, "Capt Nisar Ahmed, SJ, Engrs : 1965".
Gibraltar was the botched venture aimed at infiltrations into Indian Held Kashmir by a composite force of Pakistan Army regulars and mujahids that eventually led to September War. Captain Nisar was part of Operation Gibraltar as he led a platoon for actions deep into Indian territory aiming at the very heart of Kashmir, the town of Srinagar. The detail on actions both in Operation Gibraltar and about Nisar's force are scanty, not readily available and for the most part have stayed shrouded into mystery. It was fairly recently that an account came to us through an emotional article by Shemeem Burney Abbas.
Last Letter to a Widow
Shemeem Burney Abbas, an associate professor at the State University of New York comes to our rescue through an article first appeared in Friday Times during September of 2016. Shemeem, the widow of Captain Nisar Ahmed Shaheed reflects on her marriage with the officer, a short lived affair of a few months and brings to us in some detail the role and nature of the operation her husband was assigned. It mentions that Captain Nisar while leading an infiltrating force had crossed the Line of Control into Indian Held Kashmir in July of 1965. The letter, a last one from Captain Nisar begins with the emotional disclosure that the mere fact the Shemeem was reading it meant that her husband was no more. Our captain goes on to write about the operational aspects of his assignments.
My love, on the 3rd of Jun[e, 19]65 I was assigned to HQ 12 Div on a special duty i.e. to org[anize] and conduct the tr[ainin]g of certain Azad Kashmir soldiers and DAFA-MUJAHIDS. Later I came to know that I am under a new HQ set up for this purpose i.e. HQ L[ine] of C[ontrol] Sub Area Murree and that I will be required to go into Indian Held Kashmir on a m[is]s[io]n to conduct c[omman]do actions and organise Guerilla Warfare with the help of the local there. … Our action commenced on the night 29/30 Jul[y, 19] 65. However, the night for the Raid on targets was appointed on the 7/8 [August] night. The area I was assigned was GULMARG and PATTAN where Brigade Headquarters were located.
The letter does not comment on the nature the operations conducted by the guerilla force led by him or their outcome. Shemeem along with the letter was informed of her husband's fate, missing believed killed. All this time she had hoped that he was probably in some Indian jail. It would be much later for Shameem to discover a factual account of her husband's last moments and we shall come to that in a bit.
Salahuddin Force
Lieutenant General (Retired) Mahmud Ahmed's magnum opus on the history of 1965 Indo-Pak war has a chapter dedicated to Operation Gibraltar. Based on a few senior officers' interviews conducted at Command and Staff College during 1978 as well as 12 Division's Staff Planning, Directives and Operational Instructions we do get some insight into this highly debatable thrust deep into Indian territory across the Line of Control. Combing through the highlights included by General Mahmud, we indirectly get some details on the force Captain Nisar Ahmed was part of.
One of the six and 'strongest of all Gibralatar echelons' was Salahuddin Force. Divided into six companies led by Major Mansha, this force infiltrated from the 'launch pad' of Bedori Bulge over formidable and tricky slopes of Pir Panjal Range. They had initially assembled near Gulmerg in a forest that went by the name Khag. This name Khag would pop up again later into our narration. Giving us the individual objectives assigned to the companies of Salahuddin Force, Gen Mahmud writes:
Major Mansha left one company in the area of Gulmerg and directed the remaining five companies towards their objectives in the vicinity of Srinagar. Captain Zia's company was to raid the Srinagar airfield, the radio station was given to Captain Farooq's company, petrol dumps to Captain Shaffi's company and the Punjab Reserve Police Headquarters was the target of Captain Hashim's company.
We later discover that the company left to secure the base at Gulmerg was under Captain Nisar. Later when the Indian forces based on an early trigger located and came to raid the base camp near Khag, Major Mansha had tasked Captain Nisar with his company to strike the targets in the Gulmerg area. It was during one such raid that our valiant captain sacrificed his life and that was that. General Mahmud's book is quiet on the type of the targets and the details of these raids. It was later when Major Mansha's force having been unsuccessful in carrying out their mission disengaged and exfiltrated in packets we are told that they had lost three soldiers and that included Captain Nisar. They had another fourteen wounded and four were captured by Indians as prisoners.
Do Puloñ Ki Kahani
It's unlikely for the name Inayatullah 'Altamash' to ring a bell when it comes to writings on military history in the Indo-Pak context. With active service in British Army on Burma front in 1944, a prison break from the meticulous Japanese and then a desertion to join independence struggle while in Malaya, the gentleman himself is quite a character. He was a treasure trove of ideas when it came to storytelling and wrote tirelessly all his life. One of Inayatullah's significant contribution was meeting with soldiers and documenting their stories from the active front immediately after 1965 Indo-Pak war. His stories although exaggerated which is typical to war reportage do provide us with valuable details. One of Inayatullah's publications of the 1965 war stories was titled 'Do Puloñ Ki Kahani'. Quite interestingly the story carrying the title of the book is the story of Captain Nisar Ahmed from the Gibraltar Force.
Sometime during 90s Maktaba Al Mukhtar, a publishing house in Rawalpindi printed a memoir penned by one Commando Alamgir, reportedly an officer from Pakistan's Special Services Group who actually led a platoon and fought with the Gibraltar force. The book is the reprinted version of the memoir "Commando Alamgir Ki Kahani" that was first featured in the 1985 Silver Jubilee Number of Urdu Digest and then appeared in the subsequent issues of the monthly. The name Alamgir is a likely nom de plume of the writer who is said to be the son of certain Brigadier Gulzar Ahmed.
Now Inayatullah remained an editor of monthly Sayyara Digest and later started another monthly Hikayat. It is very likely that while writing Dou Pulon Ki Kahani he might have consulted the memoirs published in 'Urdu Digest' or Commando Alamgir's book 'Operation Gibraltar: Mahaz e Kashmir'. In Inayatullah's story the details keep getting lost to the verbose narrative and emotional twists. What we do manage to gather are a few names from Captain Nisar's platoon, Subedar Sher Alam, Neik Muhammad Din and two civilian mujahids Abdul Rehman and Hafiz Ataullah. The platoon was tasked to demolish two bridges in a radius of 3 – 8 miles from their base. We don't get the names or locations of these bridges, what we get from the story is that the first bridge was a concrete structure in the vicinity of a supply dump and was guarded by soldiers from a Sikh regiment. The other bridge was a smaller wooden structure. The mission to destroy the former through explosives was successful and a huge explosion also took care of the supply dump close to the bridge. The tactic adopted to destroy the wooden bridge a few days later was simply setting the bridge on fire. This was the mission where we lost both Captain Nisar and Subedar Sher Alam. The civilian mujahids had also embraced shahadat, Abdul Rehman in the explosion on the first bridge and Hafiz Ataullah with his commander in the second mission. The body of Captain Nisar was carried back from the site of the bridge and was later buried somewhere enroute to the base camp.
Inayatullah in his story accurately tells us of Mrs Shameem who was widowed after six months of her marriage to Captain Nisar and their daughter who was born after her father's shahadat. He also writes about the last letter written by Captain Nisar to Shemeem Abbas that we mentioned in Ms Abbas's article earlier in this story. How much of Inayatullah's Dou Pulon ki kahani is authentic we may never know, but some of the events in the narration can be referenced in the reportage from across the divide.
The Book by Commando Alamgir
Now the memoir penned by one Alamgir and later printed by Maktaba Al Mukhtar did exist and quite surprisingly, through an internet search I was to discover a couple of copies on the catalogue of select libraries in North America. One such copy existed with University of Toronto Library at Downsview. Then COVID struck and the pandemic restrictions, coupled with exclusive access to University of Toronto students made it almost impossible for me to borrow the book. Through unrelenting inter library loan requests via London Public Library, after about a year and a half UTL at Downsview was kind enough to issue the book. I was brimming with excitement as I first lay my hands on this second edition republished in 1995 by Maktaba Al Mukhtar, 4-A Gulistan Colony Rawalpindi.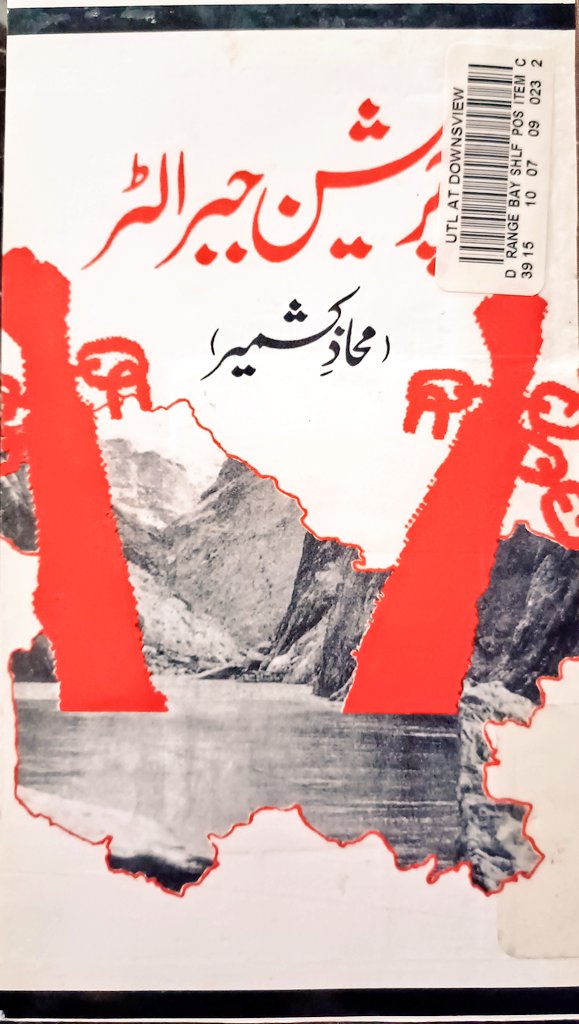 Our man who uses the pseudonym Alamgir, was a Special Services Group Captain (later retired as Brigadier) who led a company as part of Salahuddin Force in Operation Gibraltar. The narrative focuses on the task assigned to Alamgir in organizing raids on Srinagar, the book also gives us a scanty account of Captain Nisar to whom Alamgir refers to as Barey Bhai (elder brother). The main task assigned to Nisar Force was securing the base camp. It was much later in the book, almost during the withdrawal phase that Alamgir came to know of the fate of Nisar and his men.
While at the base camp, Nisar got the wind of a Battalion Order Group of Indian outfit assembling in the jungle near village Khag to attack the base camp of Salahudding Force. In a pre-emptive move Nisar with a raiding party moved out and led the assault on the assembled group. Nisar valiantly led the attack and was killed by machine gun fire from Indian Battalion Commander. The entire raiding party was wiped out less one individual who later narrated the story to Alamgir and mentioned that those killed in action including Nisar were buried in the graveyard of village Khag by the locals.
Indian XV Corps in Kashmir Theatre
The Monsoon War, Young Officers Reminisce, a combined effort by Amarinder Singh and Lieutenant General Tajinder Shergill on 1965 India – Pakistan war is a monumentous effort at par with Lieutenant General Mahmud's magnum opus from this side of the divide. It gives us a broader picture of the Kashmir Theater where the first sighting of 'suspicious looking strangers' were reported to the police by locals on 5th August, a time when the only elements available in the valley were the battalions of Jammu & Kashmir Militia. In the coming days the regular army units of 4 Sikh Light Infantry and 2/9 Gurkha Rifles would join them and the Leh Brigade would also move in to counter the insurgency.
On the morning of 5 August 1965, at a village called Darra Kassi a young Gujjar boy, Muhammad Din, was contentedly grazing his cattle when he was approached by two armed men in green shalwar kameeze. He was offered money for information and this he readily accepted, giving them whatever the story his young mind could conjure up. As soon as the the two men had made off, he went straight to the police station at nearby Tangmarg, below Gulmerg, to report the incident.
The foreign elements reported by the Gujjar boy of Darra Kassi was in fact Major Mansha's Salahuddin Force on it's way initially to Tosa Maidan later diverted to Gulmerg as the former location was already occupied by an Indian unit. Now the book tells us that a platoon of 4 Sikh Light Infantry was airlifted from Pathankot and accompanied Lieutenant General Harbakhsh Singh, Army Commander Western Command and landed in Srinagar on 8th August, but we do not get any mention of a skirmish between infiltrators and soldiers of 4 Sikh. As per the Indian account there was an ammunition dump at Dewa, a place between the forest of Gulmerg and a village named Khag. Brigade Headquarters was located close to the ammunition dump. Now the Dewa ammunition dump blew up due to effective artillery fire and with it was destroyed a part of Brigade Headquarters with command echelon including the Brigade Commander killed. But this action is attributed to an air observation post (AOP) in the area, with no involvement of ground forces. The other significant event that comes to us is the action by an infiltration force led by the legendary Major Haq Nawaz Kiyani that had attacked Naugam where Indian 8 Kumaon was based. This daring action cost Kumaon Regiment their commanding officer Lieutenant Colonel V. N. Gore . Major Kiyani wasn't linked to Salahuddin force, but was part of the border groups that assisted the infiltrators. These groups were called Nusrat Force.
In the coming days the Kashmir Theater would see the concentration of forces of XV Corps in preparation for an offensive to counter the insurgents but that detail is beyond the scope of this article.
My dear readers, Captain Nisar Ahmed of Special Services Group, parent arm Engineers was part of Salahuddin Force operating under Major Mansha that infiltrated behind the Line of Control as part of Operation Gibraltar. Our daring captain initially secured the Salahuddin Force base camp at Gulmerg and later is reported to have died while launching raids on Indian attacking parties. Whether these raids were aimed at destroying / demolishing any bridges and whether Nisar's men were successful in their assigned mission(s) we don't know with certainty. What we do know is that having met his end in one of those raids Captain Nisar was buried across the Line of Control in the infiltrated territory.
Shemeem Burney Abbas mentions the field diary of Commando Alamgir on Operation Gibraltar and that she consulted the diary to read an account of her husbands operation and subsequent death. The diary mentions that Captain Nisar Ahmed 'a masterful tarot reader' and a good singer lies buried south of Gulmerg in a village named Khag in Indian Held Kashmir. Ms. Abbas also mentions of her anger towards her husband for 'abandoning' her and their to be born daughter to fight and die behind enemy lines. Of late having read more about the elusive Operation Gibraltar Shemeem's anger towards Captain Nisar has transitioned into sympathy as she now believes that Nisar too was victim of a misinformed and mismanaged venture. She talks about the trauma after her husband's death, the pregnancy she had to go through alone and the hardships she had to scale in life. If these were not enough Shemeem had to leave the country to evade blasphemy charges and is now settled in the United States in a self imposed exile. She might never return to the country where her husband is celebrated as a national hero.