The Last Stand
A detour south of Sialkot on an axis drifting towards east would take you into the Shakargarh bulge, a tempting outreach to Jammu – Pathankot artery, at the same time an inviting one for the intruder to slice through Zafarwal – Pasrur in one heroic dash along Degh. A horizontal line joining Daska – Pasrur – Shakargarh would bisect the bulge, northern half of which is defined by the road joining the communication centres of Badiana, Chawinda and Zafarwal. It was here I spent much of my Sialkot tenure as a freshly graduated YO from School of Artillery, initially on operational area reconnaissance and then later on when my battery (Papa it was) got inducted during the very first escalation of my military career.
The escapades in civvies beyond Lehri bund, a terrain criss crossed by observation towers, the occasional cross border small arms firing cunningly mixed with the 12.7 mm AAMG (the air defence machine gun), the low altitude meteor shower of tracer bullet projectiles on eventful nights, exploring the moon's surface through BC telescope on other nights that were less eventful. A lot many memories dot the mental landscape that to this day retains this very familiar terrain on finger tips.
On these long routes of operational area I first learnt to drive. Zafarwal – Shakargarh and thence onto Narowal and back, steering a diesel Adm (Administrative) Dodge (people of military humour call it intezami dhoka), other times the petrol RKC (jeep) with DMT (Driver Mechanical Transport) Zafar as my second seater and driving instructor. Here lies that familiar village of Thakurdwara where during overnight digging of gun trenches I carried the cassette player on me playing Malangi's Ik Phul Motiye Da (full version on both sides A and B) for my jawans and contributing my share with that ceremonious digging by GPO (Gun Position Officer). From here as the war became imminent, acting as artillery observer I along with my OP (Observation Post) team would leave for the rangers post on the zero line for DF (Defensive Fire) planning brushing an almost imminent "enemy encounter" and a staring into death experience the very next day. All this and more, dear reader, will be a story for another day. For now we shall retrace our steps backwards from Zafarwal to reach Chawinda. A small town standing between Phillora and Pasrur that somehow tempted the Indian main effort to invest all of their mechanized might in trying to capture it, albeit unsuccessfully. Here were fought some of the hard hitting tank battles in history and it was here the defenders withstood the lightening assault of Indian armour & infantry and prevailed. Then there were gunners who with their bold employment engaged attacking armour in direct firing roles and gave a bloody nose. This post, dear readers, is about the attackers and defenders of Chawinda.
A present day visitor will find Chawinda bustling with the eagerness of a growing city. With dwellings more commercialized and modern in architecture the infrastructure and facilities as a whole still need a major uplift. On the northern periphery of the town south of the circular road is this relic of the past, the 'City Park' which in fact is a memorial to the 1965 War. Grassy patches with walkways decorated with war insignias, tanks, APCs, missiles, even an aircraft. The main memorial in the park is a platform in black marble that has etched on it names of those martyred fighting the Battle of Chawinda. The park itself is annexed to Chawinda's graveyard and there in a small covered compound we come across few distinguished graves. Soldiers belonging to 11 Cavalry, a few others to 14 Baloch and others of 3 Frontier Force. They are the immortalized souls of brave-hearts who died fighting at this very ground defending Chawinda at all cost.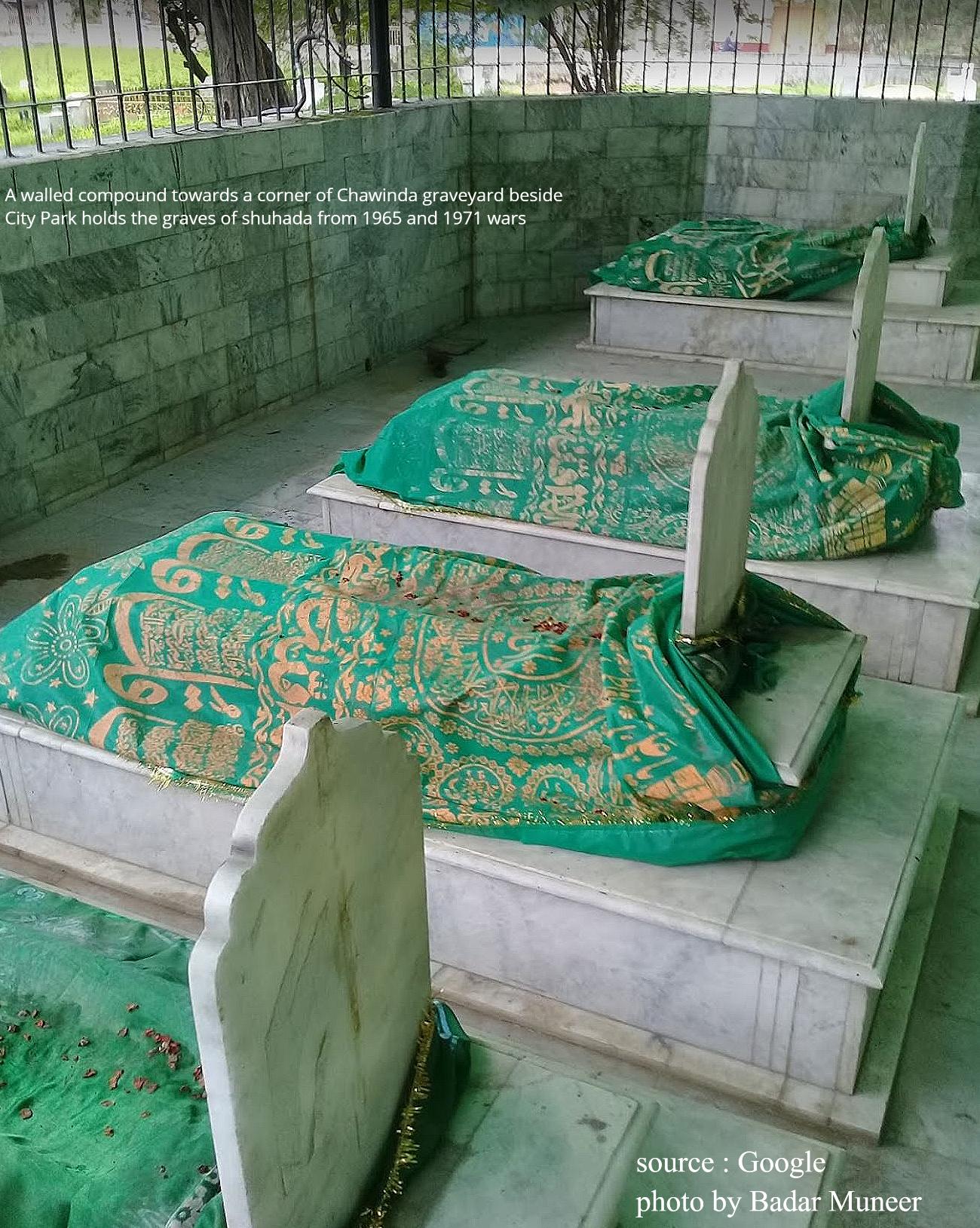 Haq Nawaz | The Daredevil of Phillora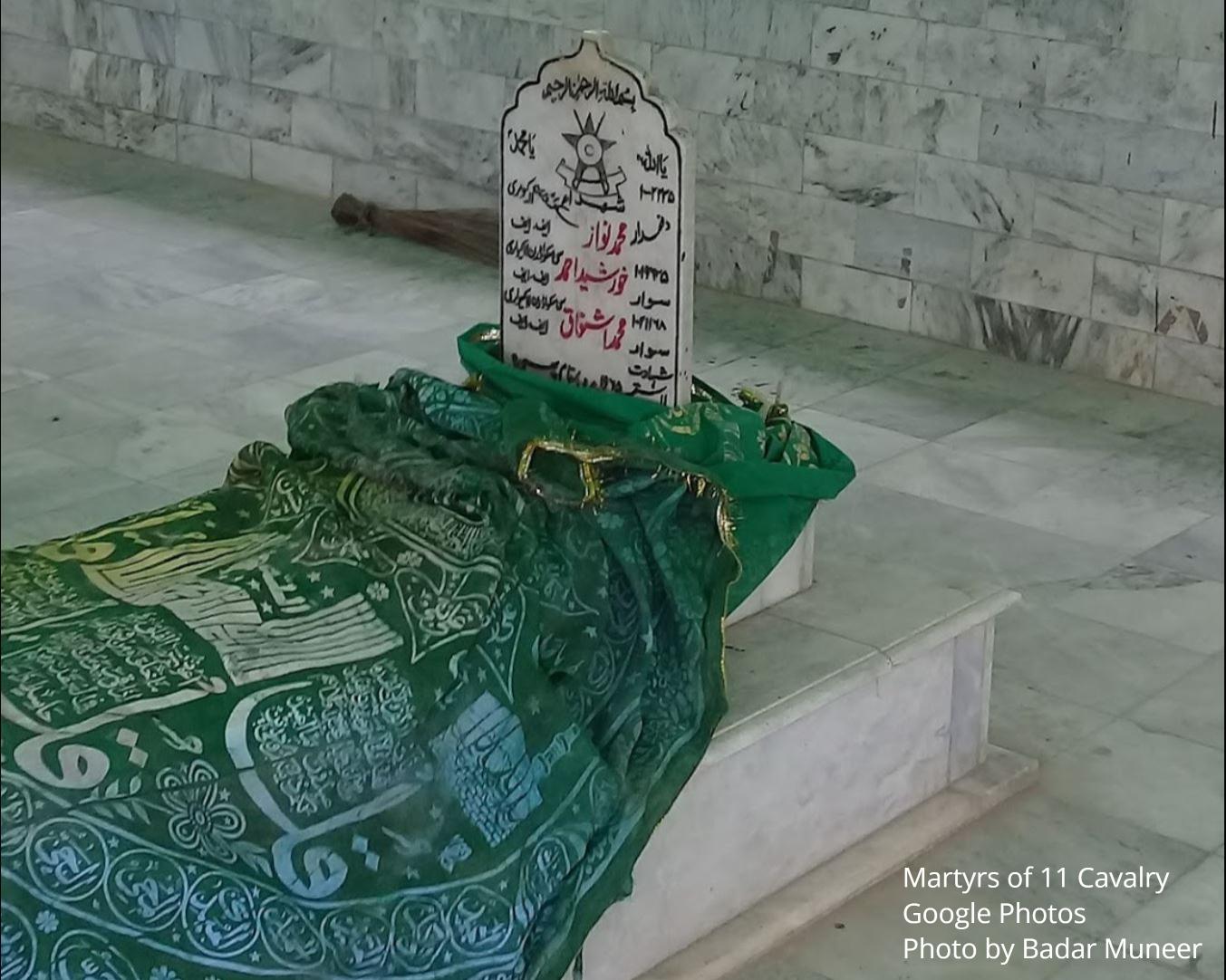 While inside the compound a grave is hard to miss. It holds the remains of three soldiers of 11 Cavalry, one Daffadar and two Suwars. The name against number 1002235 is erroneously written as Muhammad Nawaz whereas he is actually Daffadar Haq Nawaz, the daredevil from 11 Cavalry's squadron of Tank Busters. Having served under his Squadron Commander Major Main Raza Shah Shaheed, Sitara e Jurrat of Chamb fame, Haq Nawaz was to write his own story of courage after the regiment having moved from the battlefield of Chamb was inducted into the fierce armour fight at Phillora. 11 Cavalry with its squadron of tank busters faced the brunt of combined attack by 17 Poona and 4 Hodson's horse. Haq Nawaz, a Daffadar in repair section had moved his mobile dodge well forward when owing to the circumstances he took charge of a tank whose tank commander was knocked out. The lion heart from Kahuta would lead the tank crew and secure 2 kills from a hull down position. He would survive two direct hits on to his own tank and even after his gunner was incapacitated would refuse to quit. His squadron commander had said those legendary words a day before his shahadat in the battle arena of Chamb, "Those of you who know me, will find me leading from the front, and those who do not know me yet, shall not fail in discovering me." Haq Nawaz would have his own dialogue immortalized. After surviving the second direct hit he forced his reluctant crew back to the tank in theth Punjabi,
Lale kehn ge keh Musle tank chad ke nas gaey si. Chalo Allah da nana le keh apne baqi round fire Karye (The Indians will say that the Muslims have left their tank and bolted. Come, take the name of Allah and let's fire the remaining rounds).
A third round aimed at Haq Nawaz's tank took life out of our sherdil Daffadar and the day, dear reader, was 11th of September. This tale of valour would be narrated by his crew member recovering from his wounds on a hospital bed. The lad was immediately recommended for Nishan e Haider, the highest award for gallantry, but couldn't make it. There weren't much given in the 1965 war.
The Devil's Triangle
From the martyrs graveyard at City Park if we head back to the circular road and travel due west we reach the left flank of Chawinda where on Gunna Kalan – Pasrur railway track lies Chawinda Railway Station which now stands abandoned. From here a zig-zag road leaves further south west and in just a kilometre's stretch arrives at village Buttar Dogran (which gets mentioned as the famous Buttar Dograndi in 65 war accounts). A little north west from Buttar Dogran on the road that leads from Chawinda to the prominent Badiana mandi we come across two villages Jassoran and Sodhreke. Around 4 kms north of Chawinda a little south from the intersection on Sialkot – Sankhatra road is the famed village of Phillora. 8 kms down south and a little west from Chawinda is the town of Pasrur.
Dear reader, our area of interest here bounded by Badiana – Chawinda – Pasrur shapes up into a triangle. General Mahmud in his magnum opus on 1965 Indo-Pakistan war refers to this as "Devils Triangle". Indian assault in this area having won them the territory up to Phillora had momentarily halted to recoup. When they renewed their attack effort it was this Devil's Triangle where the fiercest of battles in the 1965 India – Pakistan war were fought. From the 'Men of Steel' to the 'Men of Fire', from Garhwalis to Poona Horse and more this battlefield witnessed the best of valour, chivalry and sacrifice.
Naib Risaldar from Men of Steel
The regimental headquarters of 25 Cavalry, Men of Steel proudly display a war trophy wherever they are stationed. Khushab was commandant's tank of one of finest Indian armour outfits, Poona Horse. It was captured by Lance Daffadar Ghazanfar and Acting Lance Daffadar Iran Gul on 17th September at Buttar Dogran(di). To my readers this name would sound familiar from the previous paragraph, a village on the western periphery of Chawinda.
Chawinda was the objective of 17 Poona Horse on their assault on the morning of 16th September 1965. Their commandant Lieutenant Colonel Ardeshir Tarapore appreciated that the defences on the western flank of Chawinda were well entrenched on railway line embankment and strongly defended. In a proposed change in attack plan the objective was changed to the village next to the railway embankment, Buttar Dogran. Poona Horse that day would endeavour to outflank Chawinda from left aiming to cut the road Chawinda – Pasrur at MS (Milestone) 6. The milestone was never reached but that morning the exuberant Garhwalis supported by dashing Poona Horse did create a wedge in Chawinda defences from the side of Buttar Dogran.
The fall of Buttar Dogran caused Bravo and Delta companies of 3 Frontier Force to withdraw leaving behind Charlie squadron of 25 Cavalry to tackle the assault of Poona Horse.
After locating my four tanks they (Poona Horse) deployed a squadron in Jassoran and tank to tank contest with my troop started which continued for two to three hours, joined in by the artillery of both sides. Enemy fighter planes also came in support of ground troops but their rockets missed our tanks.
General Mahmud tells us that at this critical juncture Naib Risaldar Muhammad Khaliq the Troop Leader from across the railway line towards Chawinda rushed to help Major Shamshad. The valiant troop leader is said to have secured four kills before his own tank was hit killing all crew. Khaliq was awarded a well earned Sitara e Jurrat.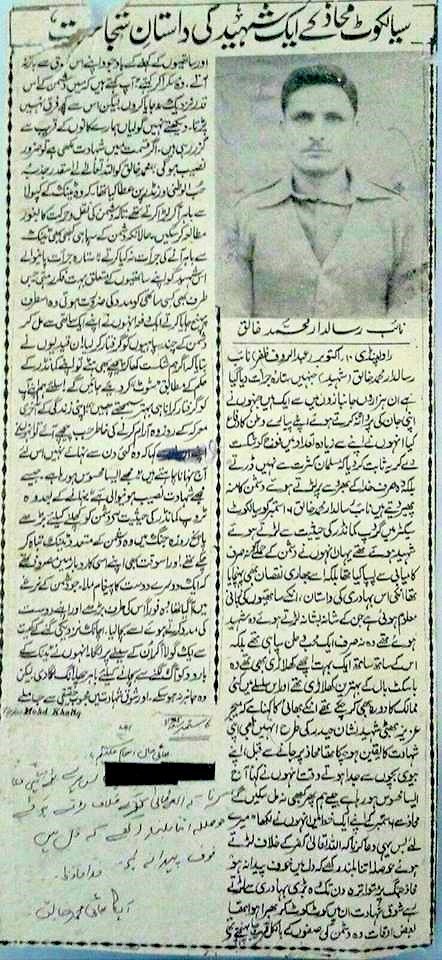 Nisar Kaka's men wouldn't go slow. CO 25 Cavalry amalgamating whatever survived of Alpha and Charlie Squadrons directed fire on to the intruding infantry in Buttar Dogran. A company size force of attacking 8 Garhwal was effectively targeted by tanks. One of the prized catch from this battle was Poona Horse Commandant's tank, Khushab the picture of which, dear reader, we visited in the beginning of this section.
The Tank Alert at Naugaza
Our friend and my Guru Salman Rashid in his quest to debug the historical myths in the subcontinent is typically intrigued by the naugaza pirs dotting the Punjab landscape. Conforming to the conspicuous measurement of 9 yards these out of the world elongated graves are sometimes attributed to the prophets, other times the saintly men and are universally called naugaza pir. Salman goes a step further in deciphering the riddle of a shrine that recently popped up in Pabbi Hills. Our imaginary saint's supposed grave here is discovered to be one of the half dug and partially filled trenches after a signal exercise. The exercise was November Handicap of 1953 and the regiment involved was my unit 14 Abbasia Field Regiment.
There also was a naugaza on the southern periphery of Chawinda. A low mound with the signature 9 yard grave that separated armour from artillery. Chawinda Defences had seen an aggressive, concentrated and well forward siting of Artillery 4 Corps assets. A map from General Mahmud's book shows this deployment in an artillery rectangle. To give my readers a fair idea of the quantum of fire support, this site had three SP (Self Propelled) field regiments (1, 15 and 16), three batteries from two field regiments, two medium batteries and 4 batteries from two heavy regiments. The naugaza mound provided cover to the artillery north of which were two squadrons of 25 Cavalry.
3 FF withdrawal on 16th September after the fall of Buttar Dogran of which we talked a few paragraphs above created a direct threat to Chawinda. On one end where the brigade commander gave a distress call to division headquarters this wedge exposed the 4 Corps Artillery guns to the advancing 8 Garhwalis and Poona Horse with only a squadron of 25 Cavalry in between. The situation was extra ordinary and the order Tank Alert was sounded for the guns (warning of an imminent armour threat).
The situation was now critical. Some retreating personnel of 3 FF told Major Rashid Ahmed, CO 1 (SP) Field Regiment that the enemy had overrun Chawinda Railway Station. Later he saw enemy tanks and infantry approaching from the direction of Butur Dogran(di). 1 (SP) Field Regiment firing Charge 1 fifteen yards away from their gun positions halted the enemy.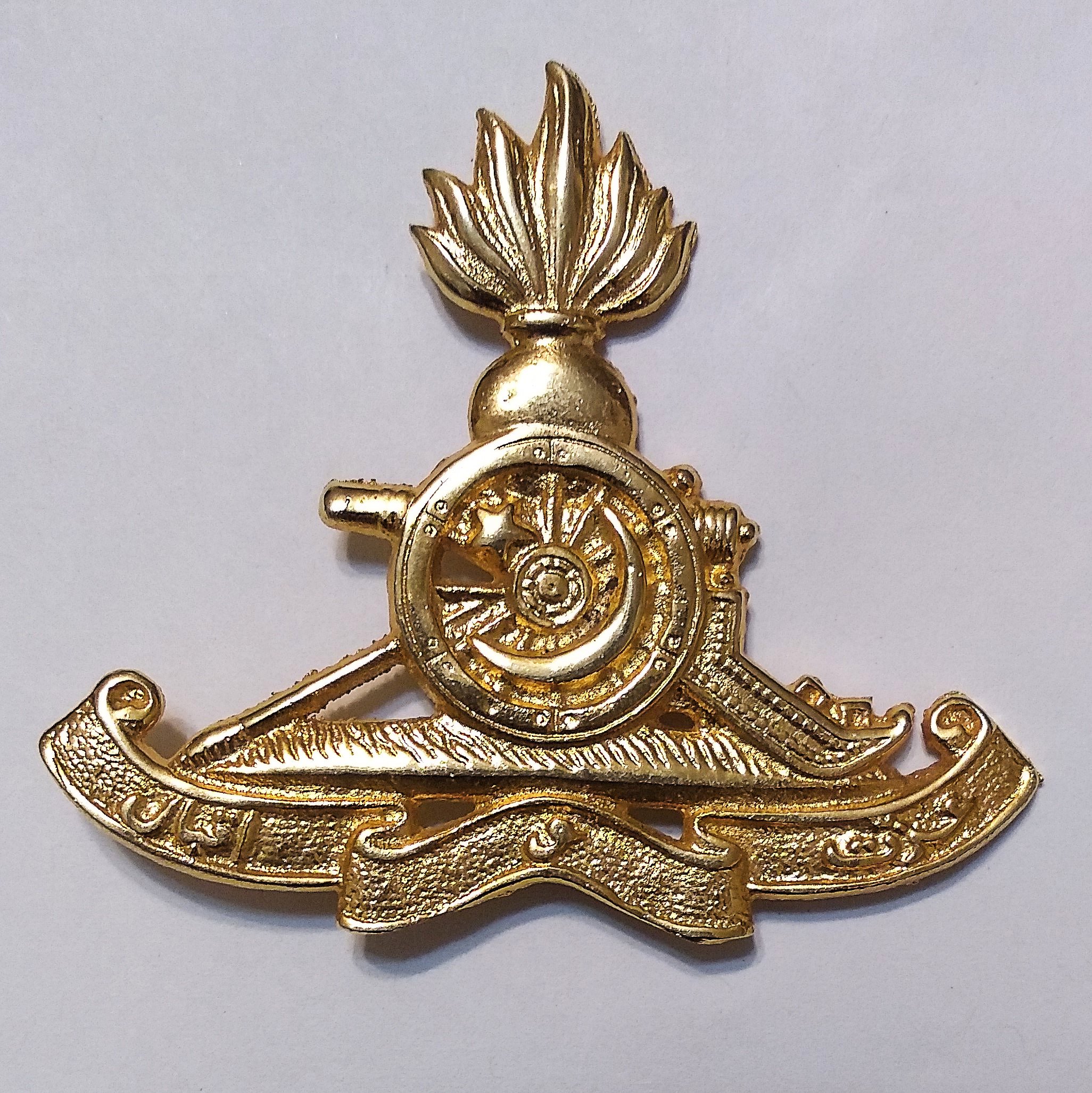 Charge 1 is the lowest quantity of the propellant charge kept at gun positions and fired to engage targets at short ranges. As per 6 Armoured Division's history it was Men of Steel supported by Men of Fire that saved the day from Indian ingress on September 16th, but this was not the only achievement of Chawinda gunners. Artillery shelling was phenomenal in causing attrition on the attacking forces both while forming up and actual assault that came wave after wave from 15 September onwards. In a renewed attack effort on 19 September artillery fire was the key factor to disorientate the attacking forces well before the assault could gain momentum.
Enemy shelling created such confusion that all control was lost. Leading troops lost direction and 14 Rajput barged into our own neighboring position held by a company of 5 Jat. There was a brisk exchange of fire between our forces. 5 Jat taken completely by surprise, abandoned their positions. 14 Rajput equally stunned by the unexpected opposition en route to their objective also dispersed in confusion.
It would be Pakistan Artillery shells calling curtains for two of the bravest Indian commanders of two of the best fighting entities in the Chawinda battlefield. Commandant of 17 Poona Horse and CO of 8 Garhwal Rifles.
The "Famished" Garhwalis
We in military are well aware of the idiom 'an army marches on its stomach'. A body of troops to fight needs arms, ammunition and food, but the things for 8 Garhwal Rifles, dear reader, were about to take a twist. In their preparation of assault onto Chawinda, Garhwalis were to marry up with 17 Poona Horse on 15th September. As the unit moved, owing to some unexplained logic their heavy equipment including anti-tank weapons, mortars and machine guns were to join them later. The equipment never came, so did the unit's B Echelon, the food. On the morning of 16th September as 8 Garhwals crossed the start line they did it with empty stomachs. The nightfall and the other day would see them feed on Pakistani sugarcane, but they did prove Napoleon wrong for when they charged they did it fiercely, causing the only dent in the formidable Chawinda defences. Other than automatics and food they had another obstacle to face, Pakistan Artillery.
8 Garhwal Rifles were to pass through Jassoran and attack Buttar Dogran(di), came under heavy shelling by Pakistan Artillery. The infantry wireless sets were damaged and the battalion headquarters lost contact with the companies, which scattered. The commanding officer (Lieutenant Colonel J.E. Jhirad) was wounded fatally.
Major Abdul Rafey Khan the second in command took control of scattered companies of 8 Garhwal and it was under him that the renewed wave of attack won them Buttar Dogran by 6 PM on September 16. The tanks of Poona Horse withdrew to their night leaguer. The Garhwali's automatic weapons didn't arrive, their ammunition wasn't replenished and their food didn't make it to their trenches. Nourished by the hospitable standing crop of Pakistani sugarcane they spent the night improving trenches and this is how they met, on the morning of 17 September, Pakistani 3 FF supported by a troop of 25 Cavalry launching a counterattack on Buttar Dogran. The famished and battered 8 Garhwal in trenches proved too good for the attackers. One of the two tanks that managed to enter the trenches was knocked by a rocket launcher fired by Rifleman Balwant Singh who was silenced by the gun of second tank that eventually withdrew. The attack and another one later into the day were repulsed despite the fact unit was short of ammunition. Captain Bhullar and Second Lieutenant Bali were lost by 8 Gharwalis in these counterattacks. But then another calamity befell the Buttar Dogran attackers the evening before.
Lieutenant Colonel Tarapore at Jassoran, seeing the attack on Buttar Dogran(di) well, dismounted for a cup of tea with members of his regimental headquarters. At about 1730 hours, a medium artillery shell landed next to Adjutant's tank, killing the CO on the spot as well as two men from 9 Dogra. 17 Horse lost a very fine battle Commandant on that day; Lieutenant Colonel Adi Tarapore was later awarded the Param Vir Chakra for his courage in leading his regiment through several battles.
Back to the Buttar Dogran defences of 8 Garhwal on 17th September, owing to a change in plan the armour support was not to reach infantry and it was decided to withdraw Garhwalis. The tank cover was provided as regiment started thinning out around 4:30 pm. They were to lost more men including their second in command Major A.R. Khan who was in the last withdrawing tank that received a direct anti tank hit. Captain Gurdial Singh of Poona Horse with two soldiers of 8 Garhwal Rifles were taken prisoner.
With their CO and 2IC and 28 soldiers killed Garhwalis along with Poona Horse proved to be a formidable force to reckon with.
A memorial raised by Ministry of Railways in Rampur remembers Maj Abdul Rafey Khan Vir Chakra
The valiant officer's body was left along with other soldiers as Garhwali's withdrew
He most likely lays buried in an unmarked grave on the same battlefield where he so valiantly fought pic.twitter.com/VJ7jh1pLnT

— imran (@meemainseen) September 23, 2020
As a Lieutenant in Sialkot I remember attending a Defence Day event organized at Garrison Auditorium near Chawinda Ground. Veterans from 1965 war were invited as guest speakers. In one of the talks delivered by a retired Lieutenant Colonel the officer revisited his days from the war as a subaltern leading his platoon defending home bank of BRBL at Lahore. I still remember words from his emotional pep talk to the soldiers as they occupied their trenches. Never ask a jawan to leave his trench he had said.
Chahey kuch bhi hojaey hum yahan se peechay nahin hatengey. Yehi hamaray morchay hein aur yehi hamari qabr. (Whatever happens we will not abandon our location. We'd rather have our graves made in the trenches from where we fight)
The defenders of Chawinda, dear reader, never abandoned their trenches. They fought from them, they are now sleeping in them.