East of Lahore where BRBL Canal intersects GT Road stands tall the Batapur Monument. It reads, "In this battlefield lies the blood of many unknown heroes belonging to different units". The forerunners of 3 Jat who dashed through Dograi and the steadfast of 3 Baloch who held onto BRBL.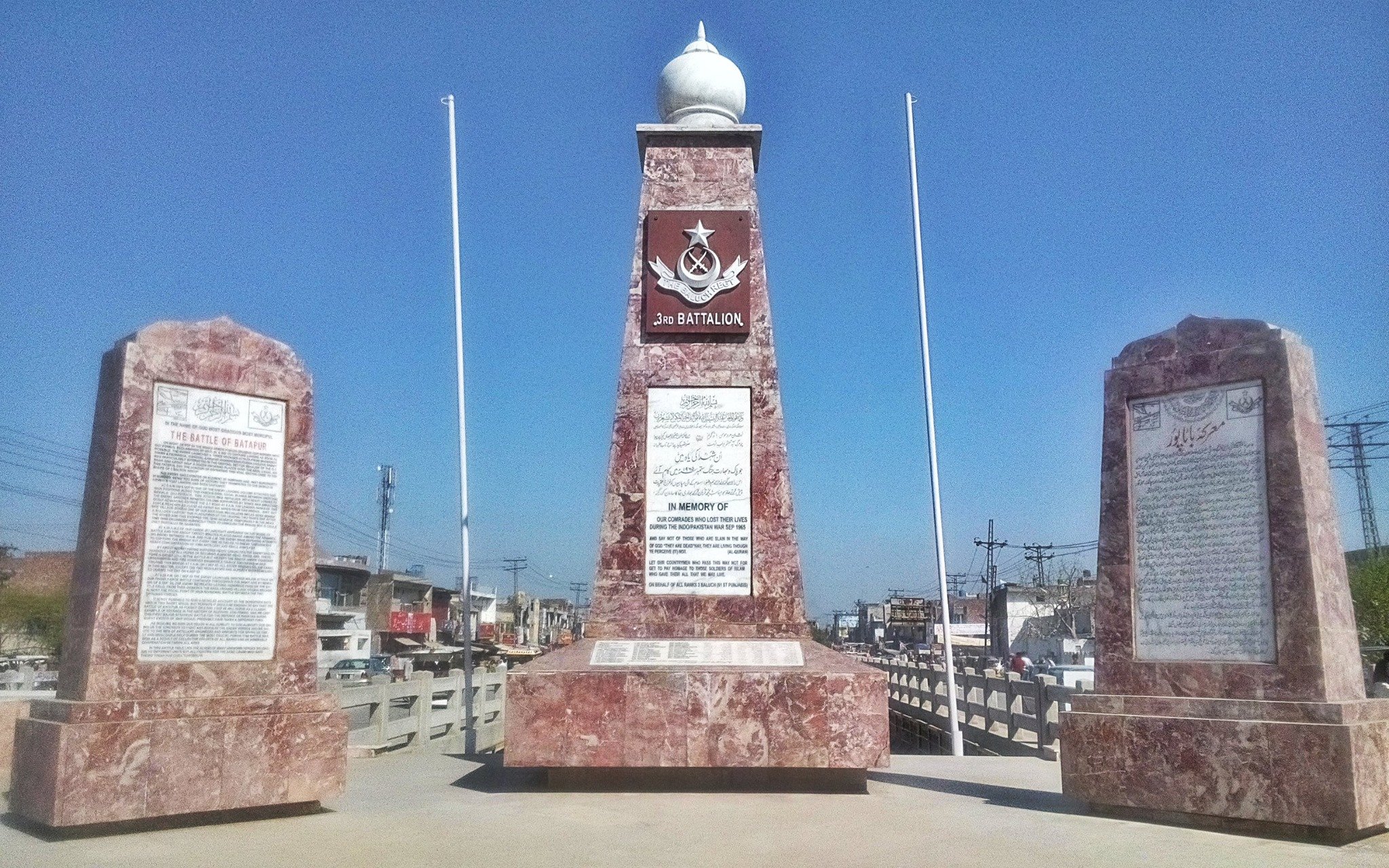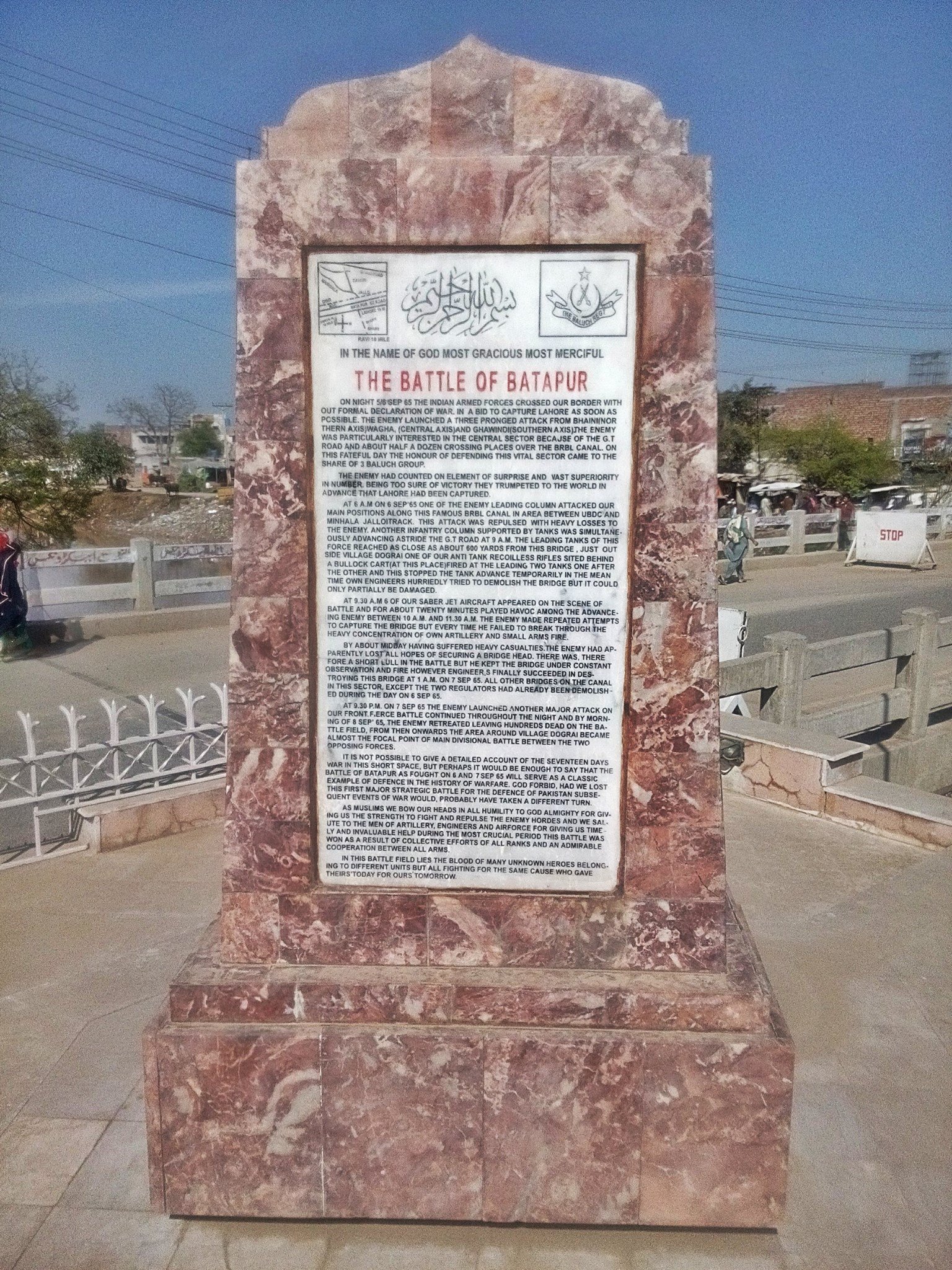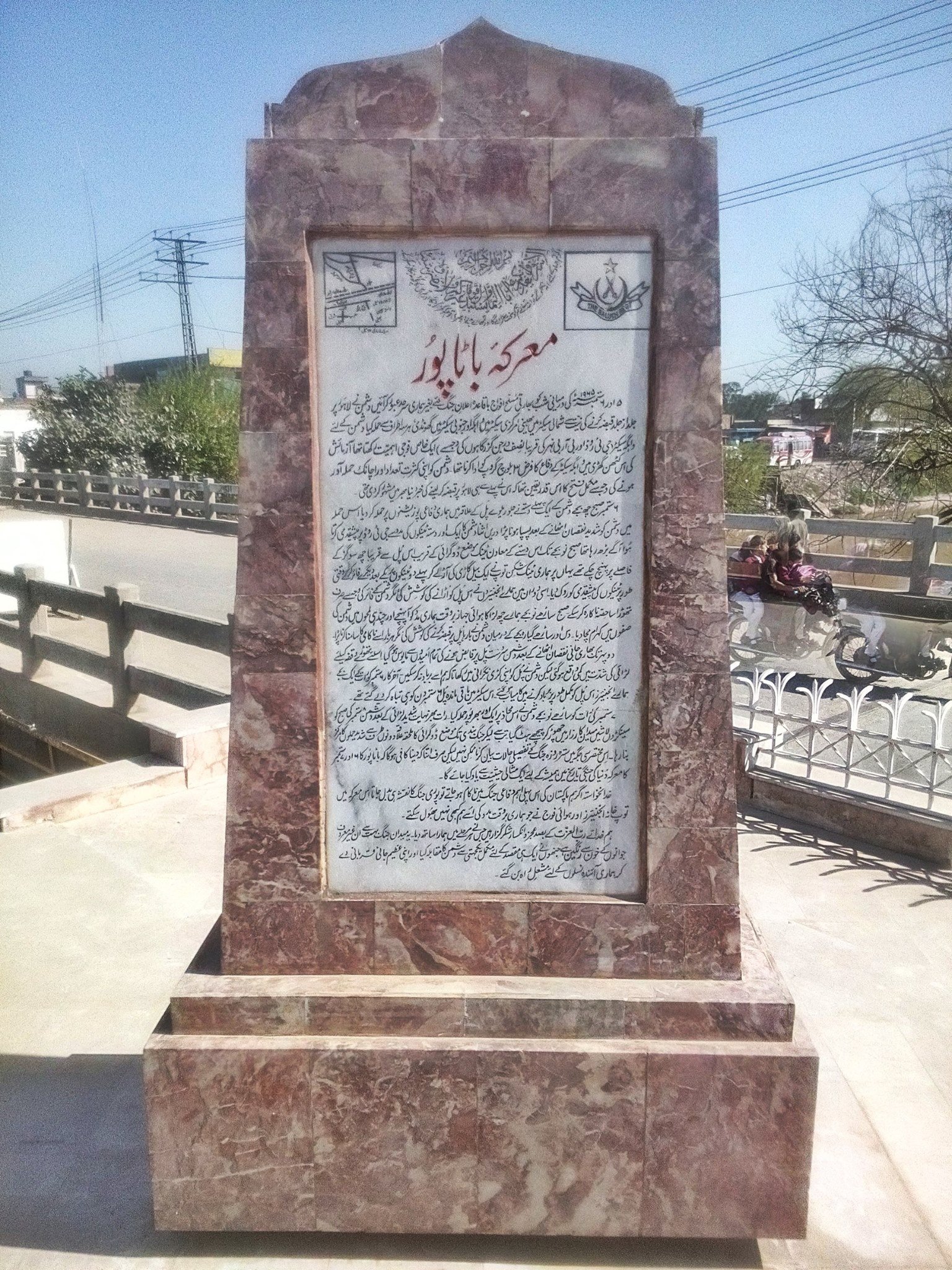 A Heroic Dash by 3 Jat
At 0400 on 6 Sep leading elements of Indian 54 Infantry Brigade crossed Lahore border. Attrition by Pakistan artillery and air would halt the brigade in area Gosal – Dial, just a km into the border. It would deter but one unit, Desmond Hayde's 3 Jats.
Where others panicked, Lt Col Hayde, CO of 3 Jat took on to attack Dograi, a village just east of GT Road Bridge on BRBL Canal. Having issued orders to his O Group at 0730 the attack supported by C Squadron of 14 Scinde Horse commenced. Soon they will face a predicament at Lakhanke.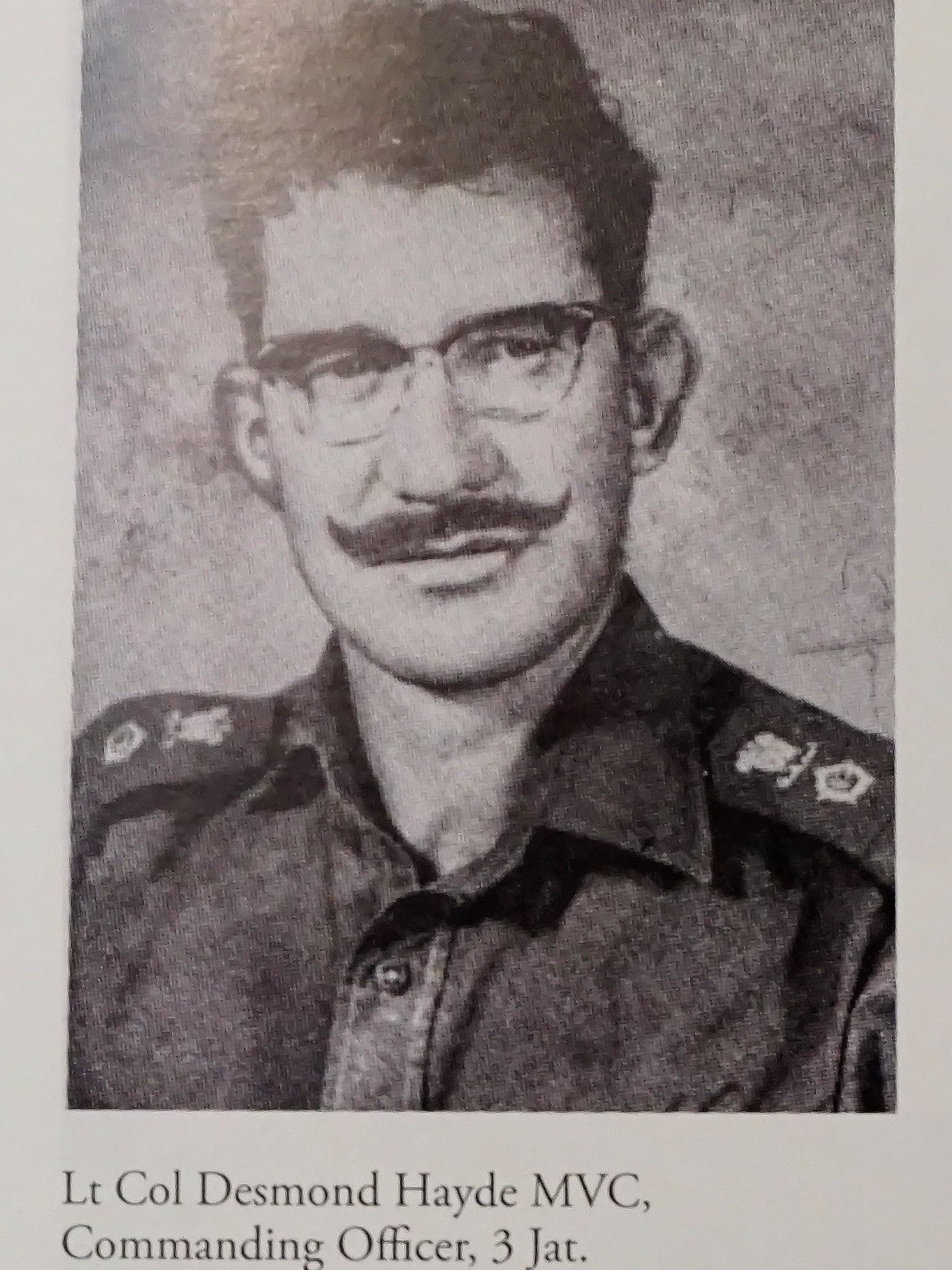 The Tree OP of Lakhanke
Both 3 Jat and 14 Horse faced accurate artillery fire. At that point 2/Lt Birjendra Singh of 14 Horse following 'the drill in the book' started engaging all speculative targets including the minaret of Lakhanke mosque. This would cost almost all of tank ammo without any luck on spotting and hitting the OP.
Now Indian accounts tell us it was 2nd Lieutenant Altaf Hussain Gill, who in a daring bit had moved forward of the BRBL Canal improvising a tall tree as Artillery OP. It was Maj Yadav, company commander of 3 Jat who spotted the op, stalked it and our brave lieutenant was killed in action.
Pakistani accounts do not trace any Lt Gill, not even an artillery observer in Lakhanke. In fact the first mention of any artillery engagement comes to us from Lt Gen Mahmud's account. And this happened further up north of Dograi in area held by Pakistani 11 Baloch.
Captain Khushi Mohammad, a reservist officer was located in B Company area of 11 Baloch as the artillery observer. In the faint light of approaching dawn, Captain Khushi called for artillery fire in Ichogil area. The request was turned down because artillery could not open up without permission from division headquarters. Major Saadat Ali Khan Chaudhry (brother of Brigadier Amjad Ali Khan Chaudhry, Commander 4 Corps Artillery), the battery commander with 11 Baluch intervened and on his own initiative ordered the guns to fire. 23 Field Regiment, the only artillery in action in 114 Brigade's area at this time, responded wholeheartedly and caused the Indians to halt in Ichogil Uttar.
Coming back to 3 Jat which having taken Lakhanke formed up and easily captured lightly held Dograi. At 1115 hrs east bank of BRBL Canal was secured. Here as per Indian accounts the bridge was partially destroyed so tanks stayed on home bank as troops of 3 Jat crossed the bridge.
3 Baloch Fights Back
Pakistani narrative has a different story to tell
The bridge at GT Road on BRBL was not prepared for demolition and was lightly held by a platoon of A Company of 3 Baloch
That morning of 6 Sep CO 3 Baloch Col Tajammul found the bridge crowded with people
These were refugees rushing from their villages that now comprised the battleground
CO sited two 106 mm Recoilless Rifles well in time who took on the leading tanks of 14 Horse that approached and fired from across the canal
This prevented any further adventure by Indian armour
3 Jat claims crossing the canal between 1130 -1330 Hours
By then the bridge was held by A Company of 3 Baloch, a Squadron of 33 Cavalry and a Company of 11 FF
With such opposition in place, the bridge crossover by 3 Jat seems far fetched

Where 3 Baloch celebrates the defence of Batapur Bridge, 3 Jats merits the true credit of a heroic dash and capture of Dograi village when their brigade was pinned down 3.5 kms on their back
What a waste it was to withdraw 3 Jat more than three kilometers back at Gosal-Dial