In The Lion's Den
Inside Ingall Hall, at Pakistan Military Academy Kakul, alma mater to Men at Their Best; on one of the wooden panels decorating the side walls, there's a quote:
It does not matter what happens to me; what matters is how I behave while it's happening to me.
Captain Karnal Sher, exactly did the same. In forgetting what would happen to him, he, with a handful of souls, heavily undersized in number and arms, moving uphill at the highest battlefield on earth, in broad daylight launched a daring counter attack right into the heart of on looking enemy. The ferocity of his daring attack won Captain Karnal Sher the respect of the Indians defending the Tiger Hills who deliberated upon him as "The Lion Karnal Sher". The brave Captain's citation is said to have originally written by the Indian commander with the same title. The official citation by Government of Pakistan recognized the young man to be the symbol of extraordinary courage and valour among his peers and honoured Captain Karnal Sher with the words, "Through his deeds, Sher (urdu synonym for Lion) carried his True Name."
Kargil Conflict (1999) between India and Pakistan, holds numerous stories of courage and valour from both the sides. The two prominent ones from Pakistan being those of Capt Karnal Sher Khan Shaheed and Havildar Lalak Jan Shaheed, both recipients of Nishan e Haider, Pakistan's highest military decoration for extraordinary bravery in combat.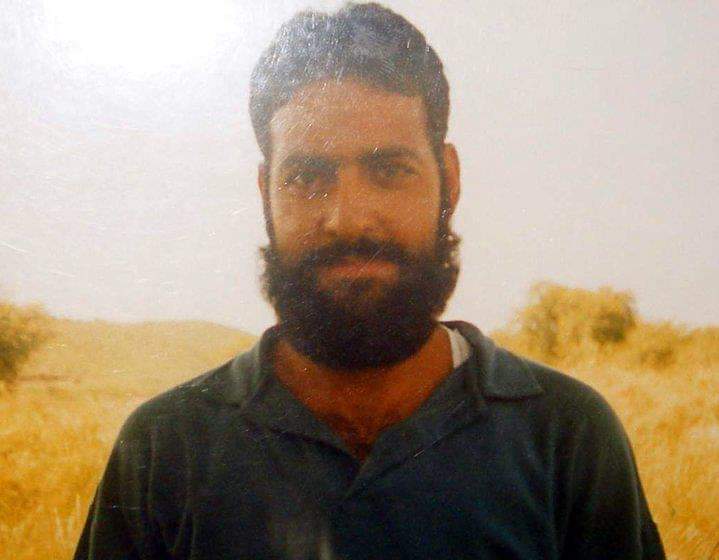 As a prelude to the defence day (celebrated Sep 6th each year in Pakistan), I decided to pay homage to one of the brave sons of soil, Captain Karnal Sher Khan Saheed, Nihsan e Haider. A professional counterpart Nihal accompanied me as we plied on the road Mardan – Swabi to reach Nawan Kalli renamed to Captain Karnal Sher Kalli to honour the brave hero. Nihal proved to be an effective aide–de–camp; a companion on the trip, an interpreter to interact with the locals (though a Khattak with Bannu accent of Pashto interacting with Swabi natives was a scene in itself) and a navigator to find the way out to our destination. It was different, as there were two modes of communication running in unison, interior of the car it was Urdu and at the exterior end it was extensively Pashto with a blend of Bannu and native accents ….. and it was fun. We did manage to spare time to tune into a melodious patriotic stream eloquently sung by Zarsanga and Daud Hanif; Shinwari Lawangeena (my land, my sweetheart) …the essence of a Pashtun's love for his homeland. Feelings identical to those must be running through the heart of Karnal Sher while he was charging on the battlefront.
Story Of A Citation
Captain Karnal Sher has the distinctive honour of being recommended for the highest gallantry award in two citations, one from his own Battalion Commander of 12 NLI and the other penned by the Indian officers manning the posts on Tiger Hills and adjoining heights, so we are told. A reproduction of both the citations in print decorates the tomb of Karnal Sher and is reproduced for my readers below.
THE LION KARNAL SHER
Citation written by Indian Officer
"THE INDIAN EXPRESS, 16TH JULY 1999"
Captain Karnal Sher Khan from Pakistan Army won the respect of Indian Officers defending Tiger Hills and adjoining features with his raw courage and brilliant attack. Officers of both the 18th Grenadiers and the 8th Sikh Battalion watched the brave Pakistani Captain leading a counter attack to recapture the features of Western Spur on Tiger Hills on July 7th. He was very courageous. After the fierce battle we had recovered Tiger Hills on July 4th and for the next four days gradually advancing to recover other features "The Helmet", "The Indian Gate" and "The Rhino Horn". Soon after the soldiers of 8th Sikh Battalion recovered the features on July 7th around 8 AM, Captain Karnal Sher with just handful of Pakistani soldiers launched a swift counter attack. It was suicidal for Sher to launch the attack in broad daylight because we could see his move, yet in the highest of military traditions, he launched the attack. Such was ferocity of his attack that 8th Sikh Battalion had to be reinforced with a platoon of 18th Grenadiers. A number of soldiers from both sides were killed. During the battle even under adverse situation, Captain Sher rallied around his men encouraging them to fight on. The Indian side too suffered heavy casualties. Sher kept on fighting till the last until a hail of bullets snuffed life out of him. Even as he fell his finger was curled around his gun. We are professional soldiers and we would feel happy if a solider like him gets recognition for his bravery. We hope that young Captain Sher gets his due share though posthumously. Here in the Dras sub sector officers realized that they may not be able to communicate officially with Pakistan, therefore, the citation is being written on a plain piece of paper to be posted to Pakistan.
AFTER ALL
A BRAVE SOLIDER DESERVES TO BE RECOGNIZED
CITATION BY GOVERNMENT OF PAKISTAN
AT THE TIME OF THE AWARD OF NISHAN E HAIDER
During the Kargil Conflict, Captain Karnal Sher Khan was posted to 12 Northern Light Infantry Battalion as Platoon Commander. During his tenure, Captain Sher displayed an unmatched feat of bravery and leadership and performed outstandingly during the battle of Kargil. His courage inspired a number of actions from his troops causing heavy casualties on the enemy. Before the onset of hostilities, Captain Sher established five posts at an altitude of 15000 feet and made an enormous contribution in making these defensible. The same posts later on played a key role in repulsing numerous enemy attacks.On night 7/8 June 1999, enemy attempted to infiltrate from the rear of Captain Sher's post that was effectively countered by him. On ni 8/9 June, he along with just ten soldiers prepared a fighting patrol that attacked the forming up enemy and killed 120 enemy soldiers. On 5 July, enemy attacked Sher's post simultaneously from three directions with heavy artillery support and initially managed to secure a foothold on his post. It was when Sher Khan though disadvantaged with scarcity of troops and ammo decided to launch the fateful counterattack. Such was the ferocity of his attack that the enemy forces were evicted from the post. During the counterattack Capt Sher received a volley of bullets on his chest and embraced martyrdom. This act of Captain Karnal Sher truly reflects the unmatched valour and extraordinary courage. Through his deeds, Sher (urdu synonym for Lion) carried his True Name. In recognition of his professional competence and selfless devotion, he was honoured with the highest award for gallantry, The Nishan e Haider."
In the daring counter attack by Sher's party launched in broad daylight on the high slopes of Tiger Hills there were no survivors. Now the Indian Citation (reproduced above) gives us an impression that Indian officers of 18 Grenadiers and 8 Sikh who won Tiger Hill from Pakistan took it upon themselves to tell the tale of Captain Karnal Sher. We are told that this citation penned by the Indians was published as a news report in The Indian Express edition of 16th July 1999. By digging into the news clippings from the past an interesting tale unfolds.
The Disputed Bodies
Interestingly the July 16 edition of the The Indian Express does not tell us of any citation. Back then it ran a different story. Where the countless bodies of Pakistan Army regulars branded as Mujahideen were buried unclaimed, Pakistan and India were "warring over the fate of two Pakistani soldiers", one of which was the body of Captain Karnal Sher of 12 Northern Light Infantry Battalion. The second body was claimed by Indians to be of Captain Imtiaz Malik of 165 Mortar Regiment. We dear reader will come to this bit later in the story.
The news about the presumed citation of Captain Karnal Sher did make it to headline in The Indian Express the next day on July 17. "Army to post citation on Pak Army Captain's bravery", it said. The story was subjective with regard to battle action and missed specifics as to who was to write the citation and how it was to be sent. It did give us a first hand account from an unnamed officer of 8 Sikh, "It was suicidal for Sher to launch the attack in broad daylight because we could see his movements. Yet in the highest of military traditions, he launched the attack. He wanted to save Pak Army from disgrace".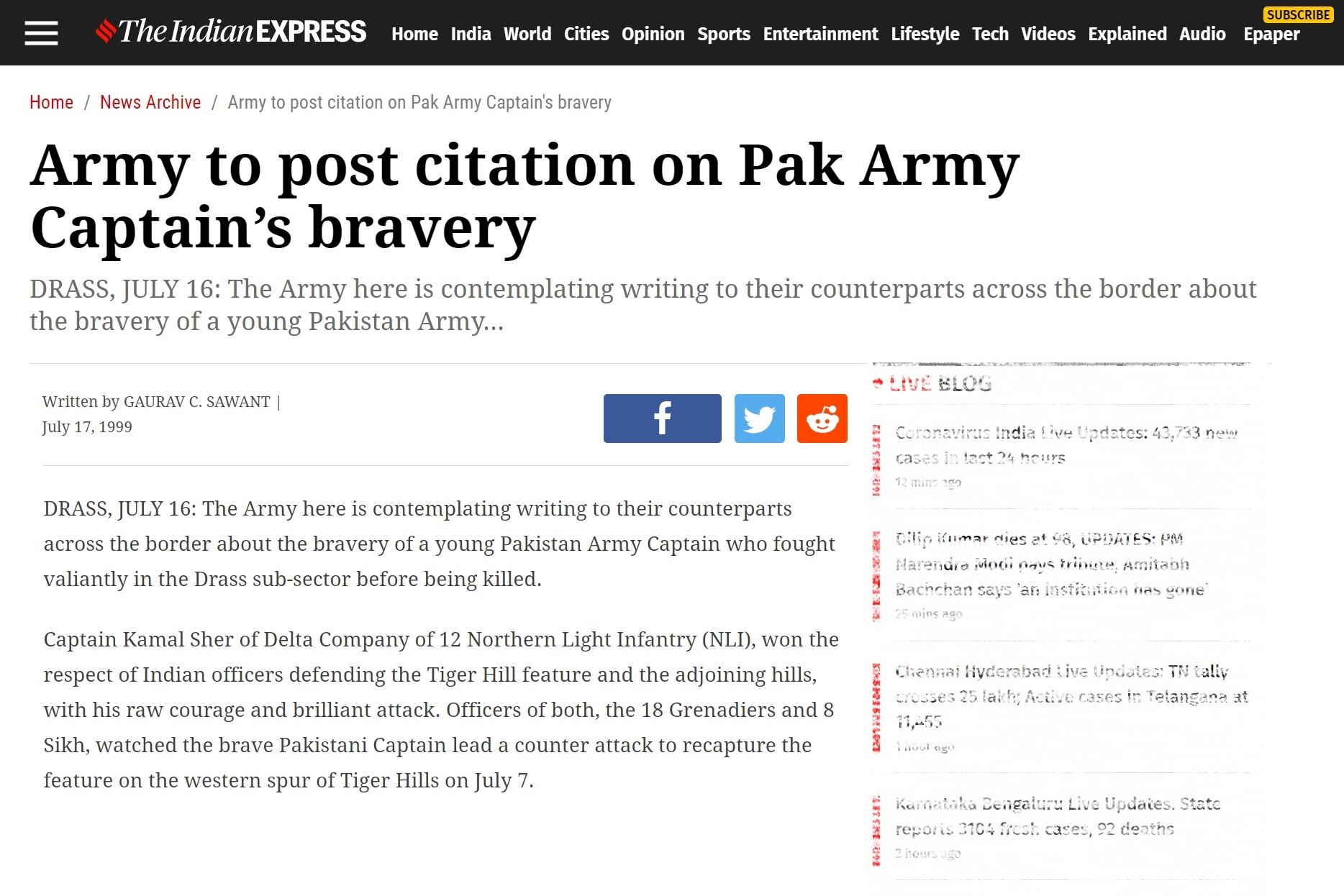 General Ved Prakash Malik, the then Chief of Army Staff of Indian Army complied a book on the war titled "Kargil Surprise to Victory". In the larger picture of the war it gives a brief battle account. On Tiger Hill towards western spur were the key heights, Helmet and India Gate captured by 8 Sikh by 5 July. The counter attack came the next morning followed by another wave in broad daylight led by Captain Karnal Sher of 12 NLI. In equally gallant fightback by 8 Sikh it was Naib Subedar Karnail Singh and Sepoy Satpal Singh on reverse slope of India Gate who helped repulse the attack. Captain Sher was killed during this counter attack. General Malik does not write about Pakistani Captain's citation if one was written.
In 2019, an article by Coreena Enet Suares appeared in Deccan Chronicle's 4 April issue, that deliberated further on the Citation written by Indian Commander of the gallant Captain Sher. We are introduced to Brigadier M.P.S. Bajwa whose 192 Mountain Brigade captured Tiger Hill. In his throwback memories of the war Brigadier Bajwa recalls that it was the "fierce attack" by two Pakistani officers Captain Khan of 12 NLI & a Major from Special Services Group that had killed two JCOs and 14 soldiers of 8 Sikh at India Gate. On the direct orders of the commander, it was Sepoy Satpal Singh who shot the 'man in track suit', our gallant Captain Sher and when he fell the battle was over. Our Brigade Commander remembers burying around 30 dead but sending the gallant Captain's body down from Tiger Hill. In a body search they found a letter written in Urdu thought to be from the dead officers wife (Captain Sher wasn't married). Brigadier Bajwa admits, "The captain had really fought bravely". Inspired by his gallantry he placed a piece of paper with hand written citation in Sher's pocket. So Captain Karnal Sher's Indian Citation was a small piece of paper with a hand written note scribbled on it by none other than the Indian Brigade Commander, Brigadier M.P.S. Bajwa, it said:
Captain Karnal Sher Khan fought very bravely and must be given his due recognition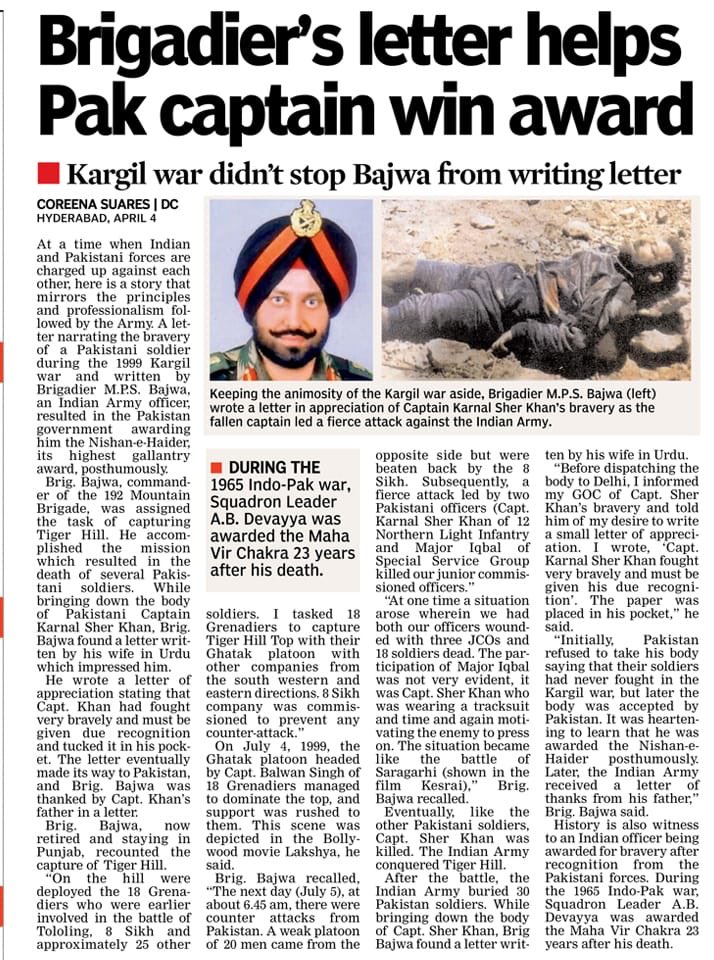 The Sharjah Connection
And then there was a call from Sharjah that helped trace the body recovered at Tiger Hill to a Swabi household. The story of a letter in Urdu (presumed to be from his wife) discovered on our martyred Captain's body was on media as the body sent from the heights of Tiger Hill arrived in Srinagar. DAWN issue of November 25, 2011 published an article from Abbas Nasir titled "Colour-blind accountability". Abbas, who was with BBC Urdu during the days of Kargil Conflict, recalls a "frantic caller" from Sharjah. In all his desperation, the caller wanted BBC's Urdu Service to verify something.
Abbas connected with Srinagar correspondent who provided the contents of a letter and the name of the female sender that was found on one of the bodies brought from Kargil. Our caller from Sharjah identified the sender to be his sister and the body in question of his younger brother Captain Karnal Sher. With the id on one of the martyrs verified by their dependents, came the real question, that of claiming the bodies and recognizing the dead soldiers as regulars from Pakistan Army. The bodies claimed by Indians to be those of Captain Karnal Sher of 12 NLI & Captain Imtiaz of 165 Mortar had to bear the disgraceful diplomatic tussle between the two countries. India insisting on Pakistan to claim their soldiers, the latter asking for identification through ICRC.
It was July 17, 1999 when Government of Pakistan succumbed to the pressure and accepted the bodies to be regular soldiers. Our disowned martyrs honoured with a farewell guard of honour by Rajputana Rifles were received with full military honours at Karachi Airport. One of these was Captain Karnal Sher Shaheed of 12 Northern Light Infantry Battalion.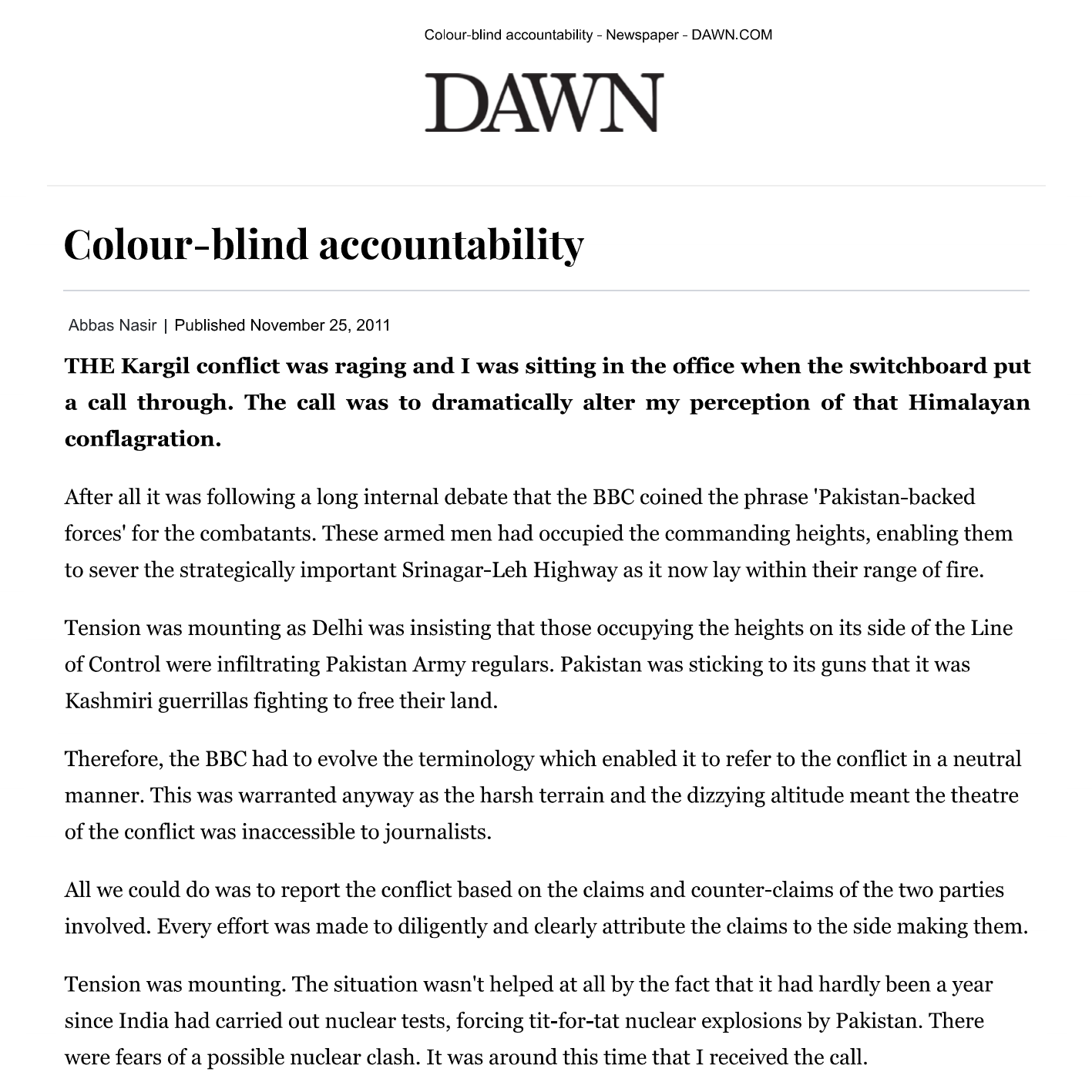 Captain Karnal Sher, the pride of Swabi lies buried in Captain Karnal Sher Khan Kalli right beside the Mardan – Swabi Road. The tomb built by 12 Northern Light Infantry Battalion, Haideraan (Karnal Sher's regiment and the only one in Pakistan Army with a distinction of having earned two Nishan e Haiders in the defence of motherland; the other one being Havildar Lalak Jan Shaheed) is being looked after by the family and is visited by a number of people to offer fateha. The grave is housed within a four pillar shed with a green dome on top. A white marble podium beside the grave platform bears the flagpole with Pakistani Flag fluttering up and high. The two front pillars bear the framed citations, one written by the Indian Commander and the other by the Government of Pakistan at the time of award of Nishan e Haider.
Captain Imtiaz, A Case of Masked Identity
On July 17, 1999 there were two bodies, our martyred soldiers from Kargil War received with full military honours at Karachi International. The second body was claimed by Indians to be that of one Captain Imtiaz Malik of 165 Mortar Regiment. A Kargil story of 1999 published in The Telegraph one Captain Imtiaz was reported killed in action west of Tiger Hill on Point 4875 the night of Jul 7. Now in sensationalizing the story with striking similarity to that of Captain Sher, a letter reportedly written by the officer's wife was found on Imtiaz's body. Pakistan Army did not have Captain Imtiaz on the missing believed killed list, instead the officer was safe recovering from his wounds in a military hospital in Pakistan. So the second body received along with Capt Sher remained unidentified. Such is the mist of war …